Diabetes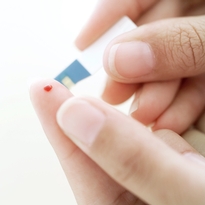 This site is a forum for American Indian healthcare professionals working with diabetes in the California Area. Information is available regarding annual Diabetes Audit reporting, Indian Health Services Standards of Care, California Area Native American Diabetes Organization (CAN-DO) webinars, educational resources, and experts working in the field.
---
In 1997, Congress appropriated a special diabetes fund which initiated the Grants for Special Diabetes Programs for Indians (SDPI). The California Area Indian Health Service (CAIHS) has 36 grants: 27 tribal, 8 urban and one for Area data improvement. Since the inception of the SDPI program, data quality has been the priority focus for California Tribal and Urban programs, helping to improve diabetes care and prevention. Grants are currently funded through FY2014.
Each program with an SDPI grant participates in the annual IHS Diabetes Audit. The data are also combined for a California-area diabetes report. The most recent Diabetes Audit data are from the 2012 Diabetes Audit report. The data period for this report was calendar year 2011. The number of Active AI/AN clients with diabetes was 6,020, an increase of 415 from the previous year. The annual Diabetes Audit report is based on the IHS Diabetes Standards of Care and contains over 50 data elements. Specific diabetes-related outcomes from the 2012 Diabetes Audit show improvement in diabetes care in the California Area:
Hemoglobin A1c <7%: 44% of cohort, an increase of 2% from the previous year
LDL Cholesterol <100 mg/dl: 50%, an increase of 2% from the previous year
Depression screening: 77%, an increase of 3% " "
Kidney disease screening: 83%, an increase of 2% " "
Body Mass Index assessment: 98% of cohort
Diabetes education provided to 87% of the cohort
In 2004, nine California T/U Indian healthcare programs competed for and received national level funding through one of two arms of the competitive diabetes grants: Primary Prevention of Diabetes or Cardiovascular Risk Reduction for people with diabetes. In the past few years, these programs have demonstrated positive results in preventing the onset of diabetes and in reducing cardiovascular risk for those with existing diabetes. Programs are currently working on the dissemination phase of the projects with the goal of spreading their success throughout Indian country.
---
Answers to commonly asked questions relating to diabetes.
Links to support healthcare professionals.