The Indian Health Service continues to work closely with our tribal partners to coordinate a comprehensive public health response to COVID-19. Read the latest info.
IHS Grants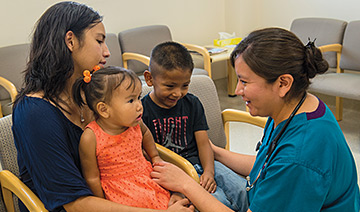 The Division of Health Professions Support (DHPS) administers three grant programs designed to encourage American Indians and Alaska Natives to pursue a health professions education in the fields of medicine, nursing and psychology. The Indians Into Medicine (INMED), American Indians Into Nursing and American Indians Into Psychology (INPSYCH) programs partner with a number of colleges and universities to provide financial and/or education support for American Indian and Alaska Native students interested in practicing as clinicians in either of these professions.
The Indians Into Medicine Program (INMED) encourages and assists American Indian and Alaska Native students in preparing for a career in health care. Through grantees, the program provides greater exposure to careers in health care, offers tutoring and career counseling for students, assists with financial aid and scholarship applications, and hosts summer educational sessions. In FY 2012, grantees:
Offered professional development workshops and health career forums.
Hosted a Summer Institute on advanced math and science and MCAT prep classes.
Conducted site visits to Tribes to identify potential health profession students and worked with health career clubs at Indian schools.
Provided travel grants to students to help them attend health profession and Indian health conferences.
The American Indians Into Nursing Program helps to increase the number of nurses, nurse midwives, nurse anesthetists and nurse practitioners who deliver health care services to American Indian and Alaska Native communities. In FY 2013, grantees financially supported American Indian and Alaska Native nursing students and provided professional development workshops, health career forums and other activities.
The primary objectives are:
To recruit and train American Indian/Alaska Native individuals to be nurses.
To give scholarships to American Indian/Alaska Native individuals enrolled in schools of nursing.
To encourage American Indian/Alaska Native nurses to provide or continue to provide services in American Indian/Alaska Native health care programs.
To increase the skills of and offer continuing education to American Indian/Alaska Native nurses.
A growing need for well-trained clinical psychologists of American Indian and Alaska Native descent led to the development of the American Indians Into Psychology Program (INPSYCH). Scholarships are available to undergraduate and graduate students pursuing psychology degrees. INPSYCH furnishes valuable, in-the-field training opportunities in Indian communities to graduate students in clinical psychology.