New Sunrise Regional Treatment Center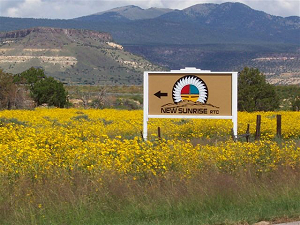 New Sunrise Regional Treatment Center (NSRTC) is an adolescent residential treatment facility within the Albuquerque Area Office. Tribes served include Pueblos, Navajos, Colorado Utes and Apaches. NSRTC is currently accredited by Commissioned on Accreditation of Rehabilitation Facilities (CARF) and is licensed by the State of New Mexico. Length of stay in individualized and dependent upon treatment needs and goals.
Mission Statement
To provide superior behavioral health services to Native population in a culturally proficient manner.
NSRTC Values
Resident Focus: We will always treat our residents and their families as we wish to be treated by others.
Staff Respect: All staff are valuable members of NSRTC. Together we provide behavioral health services with understanding and compassion in a culturally proficient manner.
Community: NSRTC depends on referral from the communities, maintains a positive working relationship with all services providers, services and organizations to meet the needs of Native Youth.
Hours of Operation
Monday – Friday
8:00 am – 5:00 pm
Telephone: (505) 552–5500
Fax: (505) 552–5530
Toll Free: 1–888–693–1373
Leadership
Janay CedarFace, Program Director
New Sunrise Regional Treatment Center
Office: 505-552-5502
Cell: 505-917-1580
Services
Diagnostic Assessment – Health, Psychosocial, Psychiatric, Substance Abuse, Recreation Therapy, Family/Social, Physical, Educational, Nutritional and Mental Health Assessment.
Treatment Planning and Review – Each resident's treatment plan is individualized and regularly review to assess progress.
Chemical Dependency Education and Counseling – Individual and group counseling, education groups, chemical dependency assignments and 12 step studies.
Academic Education – Individualized academic instruction or GED preparation in an accredited school and provides up to 3 credit hours including a Native History Curriculum.
Family Education and Therapy – Family dynamics group addressing effects of substances on the family, family therapy of family education; and lodging provided for over night stays.
Psychological/Psychiatric Services – Mental health treatment is available to all residents by full time Psychologist.
Recreation Therapy – A variety of sports and challenge activities (camping, ropes course, bowling, swimming) to address problem solving, self-esteem, group interactions and physical fitness.
Cultural/Traditional Awareness – Groups and activities to maintain and/or enhance cultural appreciation (i.e. moccasin making, pottery, traditional farming methods and Native cooking and sewing). Spiritual healing, traditional speakers, Sweat Lodge and Reflection Room ceremonies are available.
Twelve-Step Support Groups – (including AA, NA and ALATEEN) on and off campus. Residents are involved in activities and projects supporting sober Native communities.
Discharge Planning – Regular contact with the referral source, court (if indicated), school, family and resident to plan for successful re-entry into the community. Aftercare planning coordination for continued cared needs for residents.
Outpatient Services - One of the primary goals of the outpatient center is to lessen the burden of the local behavioral health service centers and to aide in providing behavior health services to the young people in the local communities.
Nursing/Health Services – Comprehensive health care is available through ACLSU and includes vision, hearing and dental services. Weekly Health Ed and Smoke Stoppers Groups are also provided.
Social Skills Services – Including Anger Management, Behavioral Program/Level System and Life Skills Groups. Supervision by trained staff 24/7.
Facilities
Administration/Girls Unit
The Girls Unit houses a total of 8 females. Administrative building includes the offices of the Program Director, Intake Coordinator, Family Therapist, Psychologist, Billing Clerk and Substance Abuse Specialist Assistant; downstairs offices are of the Program Secretary, Office Automation Clerk and Medical Records Clerk.
Boys Unit (2 Units)
The Boys Units houses a total of 16 males (8 in Unit 1 and 8 in Unit 2). Also located in the units are the offices of the Substance Abuse Specialists (1 for each unit), Nursing and the Social Services Assistant Supervisors.
Education
There are 2 licensed teachers and 1 Education Assistant in our Education Department.
Recreation Therapy
The office of the Certified Therapeutic Recreation Specialist is also located in the Recreation Therapy Room.
Cultural & Traditional Awareness
Groups and activities to maintain and/or enhance cultural appreciation (i.e. moccasin making, pottery, traditional farming methods and Native cooking and sewing). Spiritual healing, traditional speakers, Sweat Lodge and Reflection Room ceremonies are available.
Admission Criteria and Referral Procedures
A complete package is required for admission consideration.
The following are the eligibility criteria for admission:
Eligible for Indian Health Services Direct Care;
Age from 13 through 18;
Dual diagnosis (substance abuse & mental health;
Need for intensive treatment than is available on an outpatient basis.
The following may preclude admission:
Actively suicidal or cent serious self abuse
Actively homicidal or recent serious violence
Actively psychotic or impairment in reality testing
Refusal to participate in the treatment program
Significant runaway risk – this is not a locked program
Inability to enter into treatment because of developmental level or cognitive impairment
Behavioral problems that would significantly interfere with other residents' treatment and
Medically unstable.
Contact Diego Calabaza, Intake Coordinator for a Referral Packet or any questions you might have regarding the admission process at (505) 552 – 5509.
Completed referral packets include a referral statement, parent and adolescent questionnaire, Chemical Dependency and/or Psychological Assessment, prior treatment summaries, immunization record, documentation of eligibility of services and consents and releases to assure continuity of care.