Virtual Training
The Physical Activity Kit is a resource to assist with implementing physical activity programs.
Receive a complementary Physical Activity Kit by completing the online survey after viewing all the training videos and reviewing the materials on this page.
Is your community a Just Move It partner?
They should be!
Read more to learn why.

Just Move It (JMI) is a national campaign to promote physical activity for American Indians, Alaska Natives and most recently First Nations.
The Just Move It website at http://justmoveit.org has information on how to start an activity in your own community, share information about ongoing programs, contribute stories and enter information in Just Move It's calendar.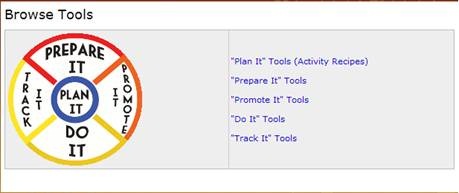 The JMI tools section includes resources the communities have contributed.
---
NOTE: To alleviate a choppy play-back on the videos below, push the pause button to allow the video to load and then push the play button within the video again to play it without interruption.
---
Training video one: Short video to help you learn more about Just Move It and the California Challenge.
---
These resources can help support the Just Move It - California Challenge in your community.
Physical Activity Kit (PAK) Staying on the Active Path in Native Communities...a lifespan approach, is a toolkit full of games and resources. They are appropriate across age spans and cover various levels of physical activity examples from warm-ups (flexibility), cardiovascular, strength and cool-downs (flexibility). PAK is based on best and promising practices that will support your community in making physical activity part of daily activity.
---
Training video two: Short video introducing the Physical Activity Kit
---
Training video three: Overview of the Physical Activity Kit
Additional videos demonstrating some of the games in PAK are online at the national IHS Health Promotion Disease Prevention website:
http://www.ihs.gov/hpdp/index.cfm?module=dsp_hpdp_pak
---
Training video four: Short video covering the 2008 Physical Activity Guidelines for American
---
Training video five and six: Two short videos on how to assess and document physical activity in the IHS Electronic Health Record (EHR).
Documenting and Assessing Physical Activity Interventions: Training Video Part 1 of 2
Documenting and Assessing Physical Activity Interventions: Training Video Part 2 of 2
---
The following documents support assessment and documentation of physical activity
To complete this virtual training, simply click on the link and complete the short survey.
http://www.surveymonkey.com/s/TYJKJC9
A complimentary Physical Activity Kit and custom carrying bag will be shipped to you within the next month, if you work in California for schools, clinics, communities, worksites, Head Start programs, elderly centers, and youth programs serving AI/AN people.