Inheriting Patients on Opioids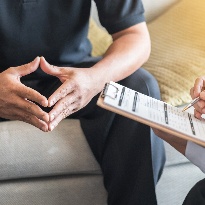 May 18, 2022
10:00-11:30am PT
Inheriting Patients on Opioids
Presenter:
Phillip Coffin, MD, Director of Substance Use Research, San Francisco Department of Public Health
Description:
Patients most at risk while prescribed opioids may also be at highest risk from discontinuing opioids. This presentation will address pain patients who also have a substance use disorder, and how to safely taper illicit substance doses.
Outcomes/Objectives:
As a result of participating in this activity, the healthcare team will:
1. Examine the risks and benefits of changing opioid dose for patients on legacy opioids.
2. Identify patients with opioid use disorder who would benefit from buprenorphine.
3. Evaluate risks of co-use of opioids and benzodiazepines.
Register here: https://www.zoomgov.com/meeting/register/vJItdOurpj8rGaUa6NfjI9Sp8mPRBh3FVpY
Full Synopsis (DOCX)
SUD Presentation Flyer (PDF)