California Area Injury Prevention Mini-Grant Program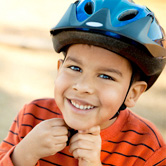 OCTOBER 10, 2018
Applications are currently being accepted for the FY2019 California Area Mini-Grant Program.
An announcement was distributed to our Tribal Injury Prevention Program Partners on 10/10/2018 alerting them that applications are now being accepted for the FY2019 California Area Injury Prevention Mini-Grant Program. The application deadline is December 14, 2018.
Eligible programs can receive funding through the California Area Division of Environmental Health Services for the purchase of the following injury prevention equipment:
♦ bike helmets
♦ smoke detectors
♦ child passenger safety seats
Eligibility: All tribal health programs who have not taken their injury prevention program tribal shares and receive services through the California Area Indian Health Service are eligible to apply for funding.
To Apply: Click on the links below to access the application form and supporting materials. All applications must be received in our office by close of business on December 15, 2017. If you would assistance with the application or have any questions regarding the California Area injury prevention mini-grant program, call or email:
♦ LCDR Molly Madson: (530) 246-5339 x302; molly.madson@ihs.gov
♦ Carolyn Garcia: (916) 930-3981 x336; carolyn.garcia2@ihs.gov
FY 2019 Mini-grant Application
FY 2019 California Area Injury Prevention Mini-Grant Announcement Letter (PDF)
FY 2019 California Area Injury Prevention Mini-Grant Application (DOCX)
FY 2019 California Area Injury Prevention Mini Grant Application (PDF)
Mini-grant Project Resources