The Indian Health Service continues to work closely with our tribal partners to coordinate a comprehensive public health response to COVID-19. Read the latest info.
Hand Sanitizer Safety
Contaminated Hand Sanitizer Warning
Do not drink hand sanitizer, it can cause blindness or death!
Some hand sanitizers have been found to contain toxic methanol, even if it is not listed on the label.
Methanol is toxic on the skin, and especially if swallowed.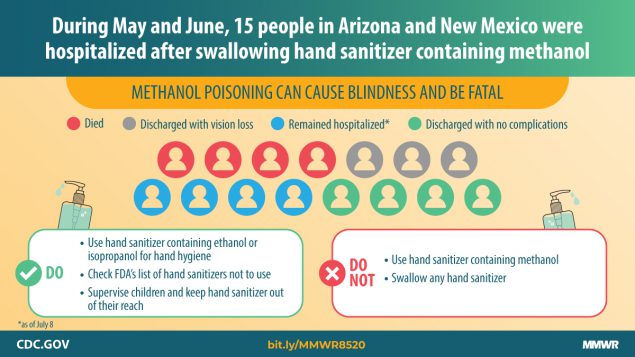 The Food & Drug Administration has reported a sharp increase in hand sanitizer products that are labeled to contain ethanol (also known as ethyl alcohol) but that have tested positive for methanol contamination.
Methanol, or wood alcohol, is a substance that can be toxic when absorbed through the skin or ingested and can be life-threatening when ingested. The Centers for Disease Control and Prevention have reported that in May and June 2020, 15 cases of methanol poisoning were reported in Arizona and New Mexico, associated with swallowing alcohol-based hand sanitizers. Four patients died, and three were discharged with visual impairment.
Consumers should check hand sanitizer products in their home and before purchasing to determine if a product is on this list of hand sanitizers Exit Disclaimer: You Are Leaving www.ihs.gov with potential methanol contamination. Visit FDA Updates on Hand Sanitizers with Methanol Exit Disclaimer: You Are Leaving www.ihs.gov for more information on methanol contamination in certain hand sanitizers.
If you have hand sanitizer on the recall list Exit Disclaimer: You Are Leaving www.ihs.gov , please return it to the store or otherwise dispose of it as soon as possible.
Hand hygiene is an important part of the U.S. response to COVID-19. Washing hands often with soap and water for at least 20 seconds is essential, especially after going to the bathroom; before eating; and after coughing, sneezing, or blowing one's nose. If soap and water are not readily available, the Centers for Disease Control and Prevention recommends consumers use an alcohol-based hand sanitizer that contains at least 60 percent alcohol (also referred to as ethanol or ethyl alcohol).
Consumers are reminded to keep hand sanitizers out of the reach of children and, in case of ingestion, to get medical help or contact a Poison Control Center Exit Disclaimer: You Are Leaving www.ihs.gov immediately. Very small amounts of hand sanitizer can be toxic, even lethal, to young children.
For more information, visit Q&A for Consumers: Hand Sanitizers and COVID-19 Exit Disclaimer: You Are Leaving www.ihs.gov and Safely Using Hand Sanitizer Exit Disclaimer: You Are Leaving www.ihs.gov .
IHS Hand Sanitizer Safety Poster [PDF - 247 KB]