Newsletters
IHS Impressions
Indian Health Dentistry
Career News and Information
Vol. 8, Issue 1
Now is the Time to Apply for Careers with the IHS Division of Oral Health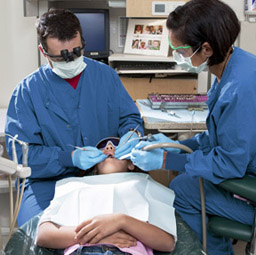 Signing on with the Indian Health Service (IHS) Division of Oral Health (DOH) is a terrific career choice for graduating dentists and hygienists, but working within the public health dentistry program is an even more attractive option in these challenging economic times. It's so attractive, in fact, that the number of IHS DOH vacancies is at an all-time low, with only 42 entry-level positions currently available to graduating students.
"These are unique and increasingly limited career openings and anyone who is interested in providing dental services to American Indian and Alaska Native communities is urged to initiate the application process as soon as possible," says CAPT Timothy Lozon, DDS, Acting Director of the IHS Division of Oral Health. "As the number of opportunities in private practice continues to shrink in the current recession, the financial stability of a government career has greater appeal for dental graduates starting out in the field of dentistry. Competition for DOH positions is intense, but we still have openings. We're looking for exceptional individuals with an interest in public health service with a sense of adventure who would enjoy working in the professionally stimulating and personally rewarding DOH environment."
American Indian and Alaska Native communities have an unusually high incidence of dental disease and are in great need of dental care. These communities are often located in rural, isolated areas where dental services are limited and beyond the financial means of many residents. Public health dentistry with IHS DOH helps fill this gap. DOH staff live and work in Native communities, sometimes in urban areas, but more often on reservations and scenic rural areas with abundant possibilities for recreational and leisure activities. Dental practice is based on a team approach that provides support and mentoring for young professionals and offers them the opportunity to foster long-lasting relationships with appreciative patients, their families and their communities. DOH positions feature predictable work schedules, competitive salaries and generous benefits. Dental graduates – many of whom have educational debts totaling $200,000 or more – are eligible for up to $24,000 per year in loan repayment through the IHS Loan Repayment Program (LRP), a major advantage in these recessionary times. Additionally, IHS sites are again eligible for the National Health Service Corps (NHSC) loan repayment program, offering $60,000 tax free for an initial two-year commitment. The deadline to apply for the NHSC loan repayment is May 26, 2011. (See the Instant News tab in this newsletter for more information.)
A wilting US economy is not the only reason for the decrease in vacancies at IHS DOH. Extraordinary efforts by IHS dental staff to spread the word about opportunities in public health dentistry have heightened interest in IHS DOH positions among graduating dentists. The popular and successful IHS externship program helps as well: The program recruits select students to work in Native communities during summer breaks between their third and fourth years of dental school, where a rewarding clinical experience and exposure to public health service often motivates them to decide on a career in public health dentistry. Retention among IHS DOH staff is up, too, as greater numbers of dental personnel elect to continue working in the Indian Health Service – a career they find personally, professionally and financially rewarding.
If you would like more information on employment opportunities, please visit the IHS Division of Oral Health website, where you'll find current job opportunities and details on the application process, the IHS LRP program, IHS Externships and other resources.
"It makes sense for the 2011 dental graduates to seriously consider working with DOH as an alternative to private practice, and although we accept applications year-round, the decision to apply should be considered now," says CAPT Lozon. "Prospective applicants need to immediately begin their job searches and apply for specific positions as well as for LRP assistance, so they don't miss out on this outstanding career opportunity."