Newsletters
IHS Impressions
Indian Health Dentistry
Career News and Information
Vol. 8, Issue 2
Apply Now For a Fulfilling Career with the Indian Health Service Division of Oral Health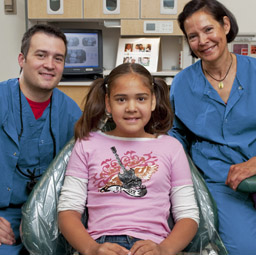 There are excellent employment opportunities still available for graduating dentists and dental hygienists within the Indian Health Service (IHS) Division of Oral Health (DOH), but positions are filling up fast. Although IHS DOH accepts applications year round, now is the time for new graduates to apply for one of the 40 positions currently available to begin an exciting and fulfilling career in public health dentistry.
Although some IHS facilities are located within urban areas, many sites offer the adventure of living in rural settings characterized by great natural beauty and extraordinary leisure and recreational possibilities. IHS dental staff members have a unique opportunity to live and work in Native communities where they're able to engage in cultural events and form long-lasting relationships with patients and their communities. American Indians and Alaska Natives, many of whom have limited access to dental care, have an unusually high incidence of dental disease and are increasingly in need of oral health care services. Filling this need can offer immense personal satisfaction and a sense of purpose.
What's more, IHS DOH also offers tremendous professional benefits, especially for graduates just starting their career paths. As members of small dental teams, they receive mentoring and support from more experienced staff, gain exposure to a variety of specialties and are presented with opportunities for career advancement. Financial stability, options for loan repayment, competitive salaries, excellent benefits, generous annual leave policies and predictable work schedules associated with government employment are especially attractive in these recessionary times, when starting off in private practice can be difficult and stressful.
"IHS DOH is a wonderful career choice at any time because it opens the door to an exciting life with a variety of professional experiences and opportunities for personal fulfillment," says CAPT Timothy Lozon, DDS, Acting Director, IHS DOH. "But in challenging economic conditions such as those we encounter today, the stability of government service is particularly appealing. Applicants know that a job with IHS allows them to benefit themselves and their families and help underserved communities at the same time, which is why this year vacancies are being filled more rapidly than usual."
Several factors have led to a reduction in available DOH positions, including an energetic recruitment program by IHS dental staff, greater retention of existing dental staff and increased interest in IHS dental careers from student participants in the IHS DOH Externship program. Nevertheless, there are still a number of vacancies open and to fill them DOH is looking for exceptional candidates who possess a love of adventure and a desire to engage in challenging and varied public service work while living in some of the nation's most beautiful locales. Career opportunities are available through the US Public Health Service (USPHS) Commissioned Corps — which has recently lifted its hiring pause — as well as through the federal civil service or as a direct Tribal hire.
Although there is no deadline for fourth-year (D4) dental students to apply for a position with IHS DOH, the earlier the application process begins, the more likely applicants are to secure positions at the IHS facilities of their choice and receive the financial support they need. Dental graduates are eligible for up to $24,000 per year in loan repayment through the IHS Loan Repayment Program (LRP). IHS sites are also eligible for the National Health Service Corps (NHSC) loan repayment program, which offers $60,000 tax free for entry-level dentists who make an initial two-year commitment. The deadline to apply for the NHSC loan repayment program is May 26, 2011.
"It's Not Too Late to apply, but space is limited," says CAPT Lozon. "I urge individuals who are considering a career with IHS DOH to start the application process today so that they don't miss out on this terrific career opportunity."