Newsletters
IHS Impressions
Indian Health Dentistry
Career News and Information
Vol. 8, Issue 3
Opening Doors to IHS Dentistry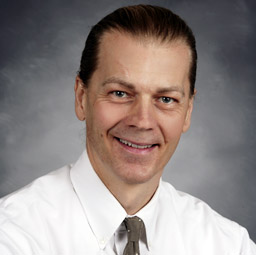 The IHS DOH Externship Program Flourishes in the State of Minnesota
Every year, the Indian Health Service (IHS) Division of Oral Health (DOH) places dental students in clinical extern positions in American Indian and Alaska Native communities throughout the nation. Through this highly successful Externship Program, dental students obtain real-life public health dentistry experience treating a wide range of clients and dental challenges while also discovering the advantages of a career with IHS.
Although the DOH Externship Program is national, one state in particular, Minnesota, has embraced it with enthusiasm, thanks to the innovative work of Paul Schulz, DDS, MPH, Director of the University of Minnesota's Mobile Dental Clinic Outreach Program. Dr. Schulz was looking for ways to involve his students in public service and extend dental care to underserved populations in his state. With the support of CAPT Timothy Lozon, DDS, Acting Director of IHS DOH, Dr. Schulz contacted the directors of IHS and Tribal dental clinics in northern Minnesota and offered to supply IHS student externs from the University of Minnesota's School of Dentistry to help out at the clinics each summer. Under an agreement with the clinics, Dr. Schulz helps with the recruitment of externs, monitors their progress and provides advice and support, while the clinics reserve two externship openings each summer for University of Minnesota students. This program, which began in 2008 with two clinics (today there are four), has provided a number of successful externs to Dr. Brandy Larson, Dental Director at the Cass Lake Indian Hospital Dental Clinic. The successful relationship with the University of Minnesota has inspired Dr. Larson to expand the reach of the Cass Lake program to include the University of Iowa College of Dentistry
"The University of Minnesota requires dental students to work for two months with underserved populations and emphasizes the importance of giving back to the community," explains Dr. Schulz. "The Externship Program allows them to build on that experience by engaging in aspects of dental practice they are not exposed to in dental school. Volunteering for an externship is often a life-changing experience for our students."
"When externs have the opportunity to live and work in Native communities, they learn that the dental clinics there are well equipped, that the work is challenging and that working with IHS offers value and satisfaction. Since the program began four years ago, 10 of our dental students have begun careers with IHS DOH and several others have chosen public service careers with nonprofit organizations. Externships are so popular with students that we are looking for additional clinics."
Dr. Schulz no longer needs to publicize the University of Minnesota's Dental Clinic Outreach Program. Word has spread among dental students about the personal, cultural and professional benefits associated with being an extern. The program is so popular, students strive to be among the first to sign up when the program is announced each year.
"The students enlist because they are interested in the experience and recognize its advantages, even though they don't get any credit for a three-week externship," Dr. Schulz says. "They are the type of individuals who want to give back to their community and want to experience the adventure of living among culturally diverse populations in beautiful rural areas. They have a strong interest in adding to their professional skills and relish the chance to gain valuable clinical exposure through performing a wide range of procedures, working one-on-one with a dental assistant and other experiences. They also look forward to enjoying the social and recreational activities that have made students before them so happy with their externships."
When the program first began, Native clinics in the northern region of the state were unable to fill staff openings for dentists. Today, thanks to the program's success, most positions are filled soon after they become available, benefitting both the graduating dental students and IHS DOH, says Dr. Schulz.
"Students see with their own eyes the positive aspects of working with IHS DOH, including a competitive salary and benefits and they are much more likely to apply when a job opportunity comes up," he says. "They develop a strong interest in a career they might have known nothing about if they hadn't been exposed to it through the IHS DOH Externship Program."