Newsletters
IHS Impressions
Indian Health Dentistry
Career News and Information
Vol. 10, Issue 1
Expand Your Horizons with a Dental Externship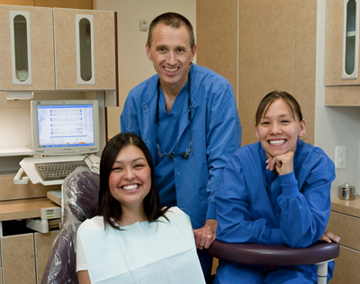 The Indian Health Service (IHS) has some excellent advice for third-year dental students in search of adventure this summer: Consider participating in the IHS Division of Oral Health (DOH) Externship Program — enjoy the experience of a lifetime and make a smart career move at the same time. The application period for the program opens January 2, 2013 and runs until February 28. Students interested in applying for the program are advised to begin preparations now.
DOH externs are stationed at Indian health facilities in some of the most beautiful regions of the country, where they learn about Native cultures while gaining hands-on experience in caring for appreciative communities with a wide range of dental challenges. The knowledge they gain about the advantages of public health dentistry enable them to make informed career choices in the months before graduation from dental school.
"Externships offer students a chance to join an IHS dental team to perform a variety of basic dental procedures using the latest equipment," says CAPT Timothy Lozon, DDS, Acting Director of IHS DOH. "Externs experience for themselves the rewards of working with underserved populations and gain insight into the differences between public health dentistry and private practice. They learn firsthand what a career as an Indian health dentist has to offer - advantages such as job stability, excellent pay and benefits, eligibility for the loan repayment programs and an opportunity to work at state-of-the-art facilities with experienced professionals who provide support and mentoring."
Add to this the rewards of getting to know the people and the culture of a Native community and living in a spectacular area of the country with an abundance of recreational activities, Dr. Lozon believes that an externship is an ideal way for adventurous third-year dental students to spend the summer.
How an Externship Works
Externships are open to dental students in the class of 2014 who are eager for new experiences and willing to commit to spending two weeks or more working at an Indian health facility. Externships run from April 1, 2013 to September 30, 2013. Participating facilities select externs from the applicant pool who appear to be a good match for the site. Currently, some 26 Indian health facilities participate in the program. Most of these sites have pre-negotiated agreements with participating dental schools. If an agreement is not in place, a student must work with the school and site to reach an agreement in order to participate in the program. This process is often time consuming and labor intensive.
Externs selected for the program are reimbursed up to $2,000 in travel costs. This includes the cost of an airline ticket, a $46 per diem for incidentals and, if necessary, lodging expenses at government rates. Many sites have housing available at the site free of charge, negating the need for a hotel.
Getting an Assignment
Last summer, 102 dental students from 41 dental schools around the nation spent several memorable weeks fulfilling externships. During their assignments, the externs pitched in to help their dental teams address the high incidence of dental disease that plagues many Native communities while, at the same time, gaining valuable experience in primary and emergent care for all age groups. Many had an opportunity to help with procedures that they may not have been exposed to in dental school. Mentoring from our dental professionals and the many rewarding ties these students established with colleagues and members of the Native community made their externships highly gratifying on a personal level as well. When they weren't working, externs spent their time engaged in sightseeing, outdoor activities, participating in community events and other enjoyable pursuits.
The competition for externships is high; not all applicants can be placed at externship sites of their choice and some applicants may be unable to find placement at all.
"Because the number of externships is limited and selections begin from the time the application period opens on January 2, I recommend that interested students begin preparing their applications now with the goal of submitting them as early as possible," advises Dr. Lozon.
To begin, access the online Dental Externship Program application on the IHS DOH website. It helps to prepare in advance the required essay explaining your interest in a DOH externship. Copy the essay into the online application to speed up the application process.
"In addition, review the 12 IHS Areas where externships are available, determine which Areas are most interesting to you and select your preferences," says Dr. Lozon, who suggests that applicants be specific about their first two choices and offer flexibility on the third choice as a fallback placement in an effort to increase their chances of selection.
Dr. Lozon also advises that interested applicants:
Indicate the widest possible span of dates of availability for an externship.
Reach out to the preceptors at facilities that have arrangements with their school to establish a relationship and express interest in an assignment at the facility.
Contact any seniors at their dental school who have participated in externships to learn more about the program.
Familiarize themselves thoroughly with the travel requirements and expenses associated with accepting an externship.
Contact an IHS Externship Coordinator with any questions.