Newsletters
IHS Impressions
Indian Health Dentistry
Career News and Information Vol. 10, Issue 2
Making the Move to an Indian Health Dental Career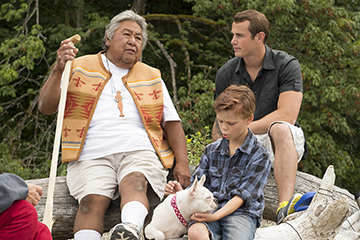 Opportunities abound for dental health professionals who seek both personal and professional fulfillment from their careers. While providing much-needed dental and oral health care, many dental clinicians who choose to practice as part of the Indian health system do so in rural and often remote settings. While it's a career move far different from the conventions of private practice, Indian dental health professionals get a lot more in return, such as opportunities to explore new cultures and immerse themselves within the rich heritage and traditions of Native American communities.
Not all Indian health facilities are located far from the beaten path; a few are located in urban settings offering all the conveniences of larger cities. But the majority of Indian health care sites, particularly those most in need of health care professionals, are situated in rural, remote and sometimes sparsely populated regions. An Indian health dental career is an especially good choice for adventurous people who would gladly exchange city amenities for the opportunity to live and work among a close-knit community amidst some of the most picturesque and unspoiled surroundings in the country.
"No matter where they're assigned, dental clinicians have an opportunity to work in American Indian or Alaska Native communities where they can learn about another culture, take part in community life and form lasting friendships," says CAPT Patrick Blahut, DOH Deputy Director. "They experience the personal satisfaction of knowing that they are helping underserved patients who have challenging dental needs and little access to quality dental care."
Indian health dental clinicians practice within modern facilities using state-of-the-art equipment and they're often part of an interdisciplinary team of health care professionals working alongside experienced colleagues who provide support and expertise. Salaries are competitive, work hours are reasonable, benefits are excellent and generous financial aid is available for repaying dental school debts.
"For many job applicants, a powerful draw is the fact that so many Indian health facilities are situated in some of the most spectacular areas of the country, close to national parks and beautiful surroundings," says CAPT Blahut. "These sites offer easy access to outdoor recreational activities, such as hiking, fishing, camping, skiing and hunting."
He points out that an especially attractive aspect of an Indian health career is the ease of transfer among the facilities. "Since your initial commitment to a specific site is two years, at the most, you can apply to relocate to another facility later on, if you wish."
CAPT Blahut adds, "It's not uncommon for career dentists to stick around and get a true feel for the location, the facility and all that the program has to offer."
Do Your Homework
If you are serious about applying for a position at a rural facility, CAPT Blahut recommends that you begin your quest with a frank self-assessment. Do you thrive on challenges and new experiences? Does small-town life with an unhurried pace appeal to you? Would you like living far from a major city, in a smaller town or in wide-open spaces? Do you enjoy outdoor activities?
"Keep in mind, each site is different," CAPT Blahut warns. "Carefully investigate every opening to be sure you're a good match for the facility and the region and the job meets your personal needs."
He suggests you also learn as much as you can about basic conditions at the facility you're considering, such as the cost of living, available shopping, types of housing and infrastructure (telephone service, utilities, nearby airports). If you have a family, investigate the local schools. Are there employment opportunities for your partner or spouse? Are there activities your loved ones would enjoy?
"Our best-prepared candidates are people who have made an effort to learn as much as possible before accepting a position," CAPT Blahut says. "Most have done extensive research about what the job entails, the characteristics of the facility where the job is available, the region where it is located, and the heritage and traditions of the local Native American population. They may have taken part in externships or contacted the Chief Dental Officer or other clinic personnel at a site to ask for more information. Many candidates arrange to visit the facility they are interested in to get a feel for the patient population and working conditions, meet the staff and find out about living arrangements before accepting a position."
Adapt to Your Surroundings
Even with the best preparation, new arrivals may discover that their assignments involve circumstances they had not anticipated. Dealing with these unexpected situations often promotes personal and professional growth.
"The most successful Indian health clinicians are people who are energized by challenges," says CAPT Blahut. "They find ways to interact with their new communities and to enjoy the professional, recreational and personal opportunities their new assignments offer them. By making an effort to fit in, they experience the rewards of involving themselves in the life of the local community and get to know their neighbors, patients and colleagues.
"If this sounds appealing to you," he adds, "You may be a perfect candidate for an Indian health dental position."