American Indians Into Psychology Program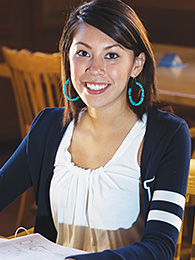 The five-year American Indians Into Psychology Program [PDF - 140 KB] promotes the study of psychology among American Indians and Alaska Native students. Public and nonprofit private colleges and universities that offer a PhD in clinical psychology, accredited by the American Psychological Association are eligible to apply.
The program has several goals, including to:
Recruit and train individuals to be Clinical Psychologists.
Provide scholarships to individuals enrolled in schools of clinical psychology to pay tuition, books, fees and stipends for living expenses.
Reach out to Tribal communities in order to provide greater exposure to the field of psychology.
Give stipends to undergraduate and graduate students pursuing careers in psychology.
Establish training opportunities for psychology graduate students in Tribal communities.
In FY 2019, grantees:
Supported undergraduate and graduate psychology students.
Supported students working in Tribal mental health facilities.
Conducted school visits to identify potential students and provide workshops in Tribal communities to discuss health issues.
Grantees for 2019 to 2023 are Oklahoma State University, the University of North Dakota and the University of Montana.
Oklahoma State University uses the grant to offer a six-week summer enrichment program and a scholarship program for Native American students working on a doctorate degree in clinical psychology. For more information, contact John M. Chaney.
The University of North Dakota uses the grant to support the school's Indians Into Psychology Doctoral Education program, a variation of the INPSYCH program focusing on graduate students. For more information, contact Justin McDonald.
The University of Montana uses the grant to provide scholarships to eligible American Indian and Alaska Native students accepted into the clinical psychology program and to offer a two-week summer program to students seriously contemplating a career in clinical psychology. For more information, contact Duncan Campbell. For more information, please visit the Federal Register Exit Disclaimer: You Are Leaving www.ihs.gov regarding the American Indians Into Psychology Program Grants.
American Indians Into Psychology Program Contact:
Sharon Farris
Health Professions Program Liaison
Division of Health Professions Support
5600 Fishers Lane
Mail Stop: OHR (11E37D)
Rockville, MD 20857
Phone: 240-460-5565