IHS Partnerships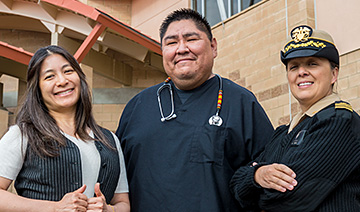 The Indian Health Service (IHS) partners with the US Public Health Services (USPHS) through the Commissioned Corps and the National Health Service Corps (NHSC) to provide opportunities and financial support to health care professionals.
For many health professionals, the favored route to a successful and rewarding career is to become a USPHS Commissioned Corps officer assigned to IHS. While not a branch of the military, the Commissioned Corps is one of the seven uniformed services. Commissioned Corps officers work for IHS for a minimum 2-year service commitment and enjoy exceptional benefits. Transitioning military health care providers who join the Commissioned Corps can maintain their military retirement benefits.
The NHSC is a network of primary health care professionals that provides vital health care to historically underserved communities throughout the continental United States and Alaska. The NHSC offers loan repayment to qualified health care professionals who are dedicated to practicing primary health care in medically underserved areas, which include Indian health facilities. Clinicians may be eligible to receive an initial award of up to $50,000 for two years of full-time service or four years of half-time service. Continued service provides the opportunity to pay off all qualified health professional student loans.
In addition, IHS Health Professions Support Branch (HPSB) staff — including the Branch Chief and Headquarters Recruiters — provide information, referrals and support to students enrolled in or graduating from the Uniformed Services University of the Health Sciences (USUHS). The USUHS includes the F. Edward Hébert School of Medicine, Daniel K. Inouye Graduate School of Nursing, graduate programs in biomedical sciences and public health and postgraduate dental college.