Recruitment and Retention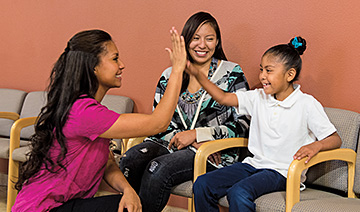 Two key components of the Health Professions Support Branch's (HPSB) efforts are recruitment and retention. The key to retaining good employees for the long term is to find the right candidates from the start. By working with potential hires early on in their job search to determine whether the position, facility, staff, community and lifestyle appeal to them and their families is job No. 1.
Likewise, an environment that creates a sense of belonging motivates employees to stay. By focusing on the strategic management of personnel, including how staff members are treated and what can be done to make their work environment better, HPSB works to create a culture where people will want to stay for a long time, contribute to the overall team, make IHS their career and be critical players in a shared mission.
The team approach applies to all facets of clinical service and everyday life. Indian health practitioners work alongside other dedicated providers to ensure comprehensive, culturally competent care that honors and complements the traditional beliefs of the community. Moreover, Indian health communities embrace clinicians who devote time outside of their work to get involved in local events and recreational pursuits, as well as those who show an appreciation for the unique, culturally rich environment and heritage of the local Tribe.
A series of Recruitment and Retention materials are available, ranging from case studies offering insight on how to ensure the well-being and job satisfaction of professional staff to tips on practicing retention from the day a health care professional is hired. There are also links to the Recruitment Toolkit, Retention Toolkit, Retention Quick Reference Guide and other materials developed to assist Indian health program leadership's efforts to retain health care professionals.
You can access these and other IHS materials on the Recruitment and Retention website.