The Indian Health Service continues to work closely with our tribal partners to coordinate a comprehensive public health response to COVID-19. Read the latest info.
Education Materials and Resources (Online Catalog)
Product Details
Author Says Family Support Helped Her Learn to Live Well with Diabetes
Article in PDF format to forward to newsletter editors. Tells the story of Paiute/Dine author Barbara Mora – how family and friends support her on her journey with diabetes. List of ways she receives support will provide ideas to readers. Designed to be used with a PSA.


"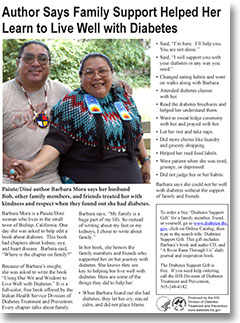 Format:
Media Tools
Audience:
Newsletter Editors
Topic:
General Diabetes
You might also be interested in: