The Indian Health Service continues to work closely with our tribal partners to coordinate a comprehensive public health response to COVID-19. Read the latest info.
Seasonal Influenza

Influenza (the flu) is a respiratory illness caused by influenza viruses that can easily spread to other people. It can cause mild to severe illness, and at times can lead to death. Some people, such as older people, young children, and people with certain health conditions, are at high risk for serious flu complications. Compared to the general U.S population, American Indian and Alaska Native (AI/AN) people are more likely than others to get seriously ill from the flu.
The best way to prevent the flu is by getting vaccinated each year. Getting the flu vaccine each year can keep you from getting sick and keep you from spreading the flu to children and elders—those who can get very sick from flu. The flu vaccine is recommended for everyone– your whole family can get vaccinated.
For more information on the fluExit Disclaimer: You Are Leaving www.ihs.gov , flu vaccinationsExit Disclaimer: You Are Leaving www.ihs.gov and find a flu vaccine near youExit Disclaimer: You Are Leaving www.ihs.gov .
Current Key Message: VACCINATE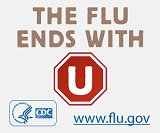 Everyone 6 months and older should receive a seasonal influenza vaccine this year and EVERY year, even if they got vaccinated last year. People who get the flu vaccine protect themselves, and they also reduce their risk of spreading flu to others. By getting the flu shot you protect yourself, your family, and your community. The Flu Ends with U!