The Indian Health Service continues to work closely with our tribal partners to coordinate a comprehensive public health response to COVID-19. Read the latest info.
Winnebago Service Unit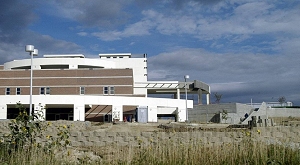 Winnebago Hospital
PHS Indian Hospital
P.O. Box H
Winnebago, Nebraska 68071
Phone (402) 878-2231
Notice of Privacy Practices [PDF - 776KB]
Omaha Winnebago Hospital
The Omaha Winnebago Hospital is federally operated facility under the Great Plains Area Indian Health Service and is located approximately 20 miles south of Sioux City, Iowa in Winnebago, Nebraska and is on the Winnebago Tribal Reservation. The Hospital serves primarily the members of the Winnebago Tribe of Nebraska and the Omaha Tribe of Nebraska and other Native American within a 75 mile geographical radius of the hospital. The Hospital itself is a 13 bed inpatient facility that includes a comprehensive Ambulatory Health Care Clinic, Emergency Room, Pharmacy, Social Services, Bio-Medical, Medical Laboratory, Radiology, Physical and Occupational Therapy and Medical Records. The Service population is approximately 10,000 patients. In addition the Winnebago Tribal Health Program is located in the facility and operate the following Programs: Optometry, Dental, Public Health Nursing, Diabetes, Community Health Representatives, Behavioral Health, Health Education and Emergency Medical Services. In addition attached to the hospital is a drug and alcohol dependency unit of 16 beds that is operated and managed by the Great Plains Area Office.
The mission of the Omaha Winnebago Hospital is " To provide quality comprehensive health care services in a caring, compassionate, and culturally appropriate manner in partnership with the tribal communities we serve"