The Indian Health Service continues to work closely with our tribal partners to coordinate a comprehensive public health response to COVID-19. Read the latest info.
Evaluation Toolkit
The MSPI Evaluation toolkit uses Adobe Flash software and is not compatible with most mobile devices. To access this training, please visit the full version of this site on a desktop or laptop computer.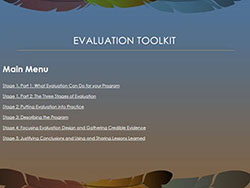 The MSPI Evaluation toolkit combines onscreen lessons, interactive exercises and tools to help you carry out your evaluation efficiently using local resources. The toolkit is flexible enough to be used with all types of programs.
Worksheets, checklists, and other helpful documents that are part of the toolkit may also be found on the Evaluation Toolkit templates page.
The MSPI Evaluation Toolkit runs on Adobe Flash, which needs to be enabled in your browser to run.
Chrome
To enable Adobe Flash, hover over the lock symbol next to the "https:.."" in the web address bar at the top of the page. Right click while hovering, and select "site settings" in the dropdown menu. From there, a settings list will open. Select "Flash" from the list. From the dropdown next to it, switch from ASK to Allow. This will enable the training to run (you will probably want to restore your settings to "ASK" once you have finished your training for security purposes).
Firefox
Start Firefox, then click the "Tools" menu button in the menu bar and select "Add-ons." Open the "Plugins" tab. Scroll down to the entry called "Shockwave Flash" (another name for Flash Player) and click the "Enable" button to the right of the plug-in's name. Flash for Firefox is now re-enabled.
Internet Explorer
Click the Gear shaped Tools icon in the upper-right corner of Internet Explorer. In the pop-up menu that appears, click Manage Add-ons. In the Manage Add-ons dialog box that appears, select Toolbars and Extensions as the Add-on Type. In the list of Add-ons, look for "Shockwave Flash Object." In the Status column, check if Shockwave Flash Object is disabled, if it is, click the Shockwave Flash Object row to highlight, and select Shockwave Flash Object as the Add-on Type. In the lower-right corner of the Manage Add-ons dialog box, click Enable. Close the Manage Add-ons dialog box.
This presentation was designed to meet HHS 508 accessibility standards. If you require further assistance, please contact MSPI website staff.