Ms. Evangelyn "Angel" Dotomain is more than just an Indian Health Service employee. She is Cup'ik and Inupiaq Eskimo. She knows first-hand the health needs and disparities of Alaska Natives. Ms. Dotomain carries institutional knowledge of running a health board, leading tribal self-governance negotiations and working with tribes to bring quality health care to their communities.
Most recently, Ms. Dotomain was appointed to the position of Executive Officer for the IHS Alaska Area Native Health Service. In this role, she oversees all management operations in support of Area Office programs, services, functions and activities including financial management, human resources and procurement.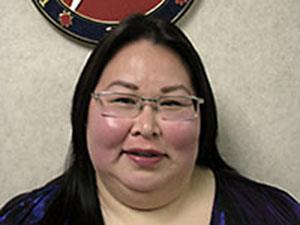 Since joining the Indian Health Service in 2012, Ms. Dotomain has served as the Director of the Office of Tribal Programs in the Alaska Area, as Agency Lead Negotiator, Contract Proposal Liaison Officer, Awards Coordinator and most recently as Supervisor of the Office of Financial Management.
As an Agency Lead Negotiator, Ms. Dotomain has the delegated authority to negotiate, on behalf of the IHS Director, with Alaska Native Tribes and Tribal organizations under Title V of the Indian Self-Determination and Education Assistance Act (ISDEAA). Annually, Ms. Dotomain leads negotiations with the 25 Alaska Native Tribes and Tribal organizations who are cosigners to the Alaska Tribal Health Compact. In her role, Ms. Dotomain utilizes her detailed knowledge of IHS, awareness of current policy and practice, and knowledge of the rights and authorities available to Tribes under Title V of the ISDEAA.
Prior to joining the Indian Health Service, Ms. Dotomain served as the Deputy Director of the National Indian Health Board in Washington, D.C., and President/CEO of the Alaska Native Health Board in Anchorage, Alaska. It's evident that Ms. Dotomain's interest in tribal health care is significant and that her passion for creating a culture of quality care is abundant. She is definitely a valuable asset to the Alaska Area Office and to the entire Indian health system.
Ms. Dotomain received her Masters of Business Administration in Health Services Administration from Alaska Pacific University. She completed her undergraduate degree at Georgetown University McDonough School of Business in Washington, D.C., where she majored in International Business. In addition, Ms. Dotomain graduated from the Alaska Native Tribal Health Consortium's (ANTHC) Leadership Excellence through Advancement and Determination (LEAD) program, which is designed to enhance and expand leadership knowledge, skills and abilities.
Ms. Dotomain is originally from Shaktoolik, a small Inupiaq village on the west coast of Alaska. She and her family are from the villages of Mekoryuk, Mary's Igloo and Shaktoolik.
Dr. Kenneth Glifort is the current Acting Alaska Area Director and Chief Medical Officer. The Alaska Area Native Health Service (IHS) works in conjunction with Alaska Native Tribes and Tribal organizations to provide comprehensive health services to 155,000 Alaska Natives (Eskimos, Aleuts, and Indians).