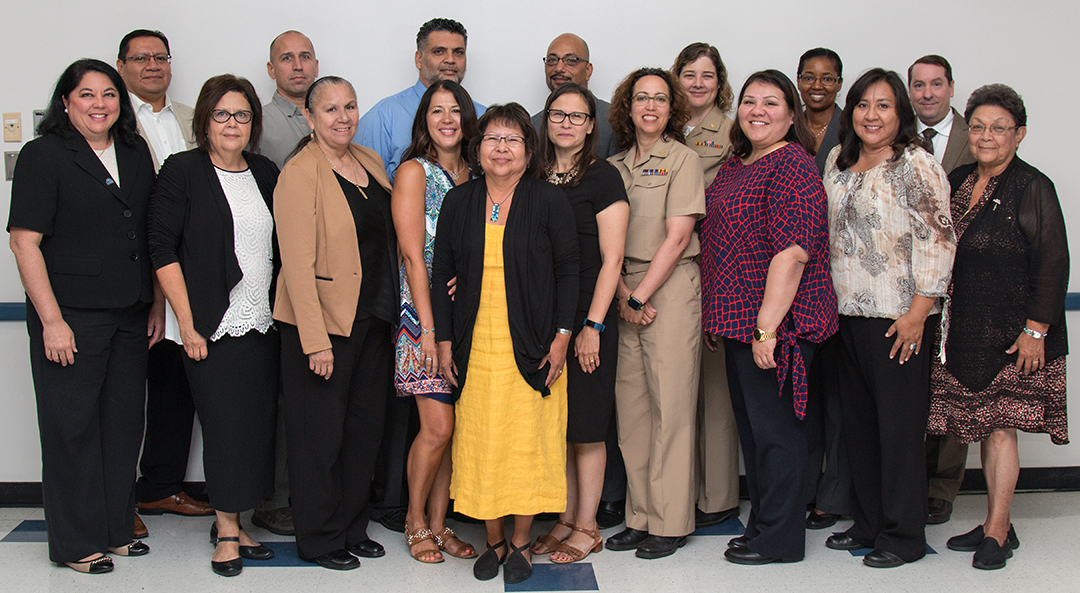 Indian Health Service and Veterans Affairs representatives at Phoenix Indian Medical Center.
On Wednesday, July 12, the Phoenix Indian Medical Center hosted a site visit and tour for local, regional, and national Veterans Affairs (VA) representatives. This visit reflects the ongoing relationship building between the Indian Health Service and VA. Both agencies shared information and identified opportunities to better partner to continue providing the best care possible for our American Indian and Alaska Native (AI/AN) Veterans.
This partnership began in 2010 when the IHS and VA signed a memorandum of understanding, or MOU, to "improve the health status of AI/AN Veterans." In 2012, a reimbursement agreement was signed allowing the VA to compensate IHS and Tribal Health Programs (THPs) for any health care provided to AI/AN veterans that are enrolled in the VA health care system. The VA reimbursed approximately $5.6 million to the IHS, during fiscal year 2017.
While VA headquarters staff were in Phoenix, a reimbursement agreements round table discussion was held at the Heard Museum, supported in part by IHS staff. Dr. Baligh Yehia, VA Assistant Deputy Under Secretary for Health; RimaAnn O. Nelson, Director of Phoenix VA Medical Center; and Henry Huntley, Acting Deputy Assistant Secretary of the VA Office of Intergovernmental Affairs hosted the roundtable discussion.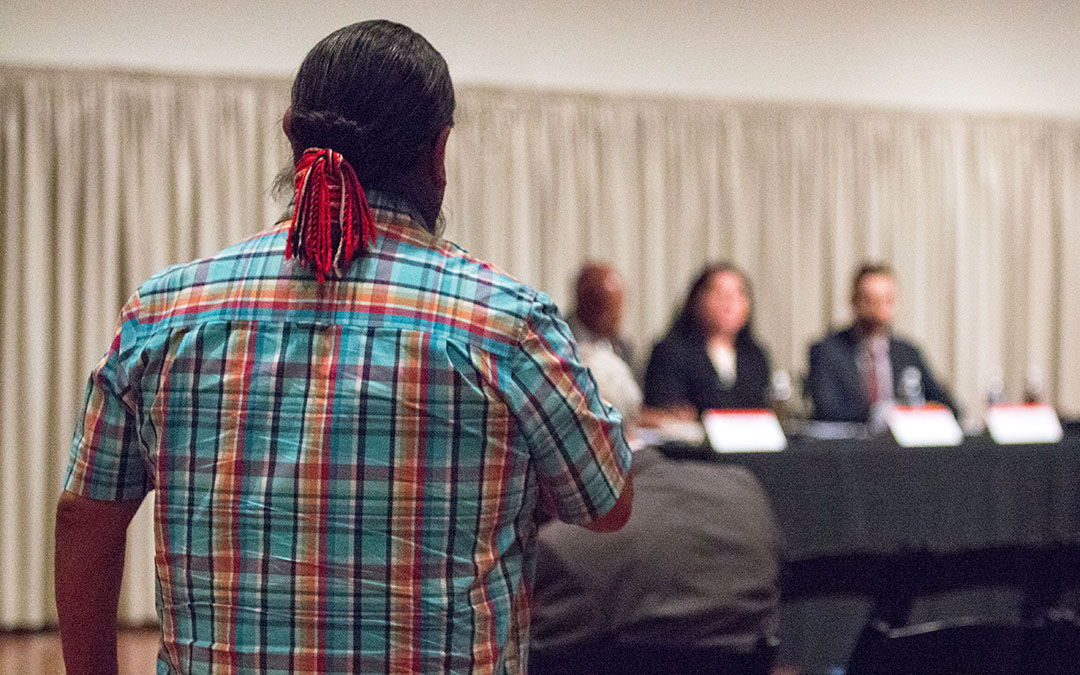 American Indian and Alaska Native veterans participated in roundtable discussion hosted by VA.
Tribal representation included; Yavapai Apache Nation, Navajo Nation, Santo Domingo Pueblo, Choctaw Nation of Oklahoma, Confederated Tribes of Grand Ronde, Umatilla Tribe, Pascua Yaqui Tribe, Confederated Tribes of the Colville Reservation, Kaibab Band of Paiute Indians, Gila River Indian Community, Kewa Pueblo Health Corporation, and San Carlos Apache Healthcare Corporation. Additionally, the following organizations were present: Alaska Native Health Board, National Indian Health Board, Hobbs Straus Dean & Walker, Crucial Care Emergency Medical Doctors, and Mercy Maricopa.
For more information on the IHS-VA partnership, visit https://www.ihs.gov/vaihsmou/
Related Content:
National Colorectal Cancer Awareness Month
Indian Health Service, Roswell Park Launch Partnership to Reduce Cancer's Impact on Native Communities