Earlier this month, the Indian Health Service co-sponsored the very first Zero Suicide Academy™ for American Indian and Alaska Native healthcare leaders, along with the Suicide Prevention Resource Center in Phoenix, Arizona. This two-and-a-half-day event is part of the IHS commitment to continuous improvement in behavioral health care for American Indians and Alaska Natives.
Zero Suicide is a call to relentlessly pursue a reduction in suicide for those who come to us for care. This first American Indian and Alaska Native Zero Suicide Academy™ will go a long way in helping us boldly answer that call!
Teams of leaders representing 13 IHS and Tribal organizations attended the Academy. Teams learned the foundational elements of Zero Suicide and collaborated with faculty to develop their own action plans. In turn, the plans will help the teams implement the Zero Suicide approach within their respective communities.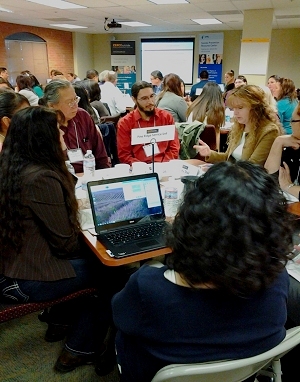 The Zero Suicide approach Exit Disclaimer: You Are Leaving www.ihs.gov was developed by the Education Development Center, Inc. Exit Disclaimer: You Are Leaving www.ihs.gov and the Suicide Prevention Resource Center Exit Disclaimer: You Are Leaving www.ihs.gov . Its core principle is that suicide deaths for people under care are preventable. While Zero Suicide Academies have been held for other health systems, this event was the first for IHS and Tribal organizations serving American Indian and Alaska Native communities.
Representatives from Indian Health, Tribal and Urban Indian health organizations, as well as national healthcare experts, provided training on innovative approaches to suicide prevention for American Indian and Alaska Native communities. Topics included:
Leadership Commitment and Organizational Change.
Screening and Assessment.
Using Lived Experience to Enhance Care.
Evidence-Based Treatments for Suicide.
Electronic Health Records.
IHS suicide prevention activities include funding and resources for patients and providers, as well as events. Earlier this year, IHS made funding awards totaling more than $13 million through its Methamphetamine and Suicide Prevention Initiative.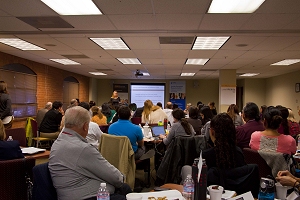 IHS also plans to co-sponsor additional AI/AN Zero Suicide™ Academies in the future. The IHS Division of Behavioral Health will also spearhead Zero Suicide implementation for IHS communities. IHS Division of Behavioral Health plans to focus on the following core components:
Policies that lay the foundation for the day-to-day operations to function efficiently and effectively. Such policies reduce fragmentation and increase integrated service delivery. Policies detail procedures for early identification and response for those presenting for suicide care.
Partnerships that promote collaboration in the delivery of health and behavioral healthcare system, including integration between primary care and behavioral health, public and private entities, and IHS and community-based care.
Providers across the full spectrum of care that are competent in and committed to the delivery of Zero Suicide care. From paraprofessionals to physicians, and all other disciplines, should know and adopt the skills and practices necessary to improve suicide care.
Practices that are based on evidence, proven to deliver successful outcomes in the treatment of suicide and those at risk. Empirically-tested approaches may include culturally-driven ways of reaching those in need of care.
LCDR Sean K. Bennett is a United States Public Health Service Officer trained in clinical social work who works in the areas of substance abuse, domestic violence, suicide prevention, resiliency, and treatment of trauma. As an IHS public health advisor, he serves as program official for the IHS Domestic Violence Prevention Initiative and project officer for the IHS Nashville Area Methamphetamine and Suicide Prevention Initiative activities.