During May, I had the distinct privilege of traveling to Anchorage, Alaska to visit with the Alaska Native Tribal Health Consortium (ANTHC) to meet with their Behavioral Health Aide (BHA) Program in preparation for the expansion of the Community Health Aide Program (CHAP) in the lower 48. Accompanying me was public health student, Eric Jepeal from Dartmouth College who developed a comprehensive evaluation proposal for the BHA program.
During the trip, I had the opportunity to hear firsthand how the Behavioral Health Aide program has transformed mental health service delivery for Alaska Natives. We met with the ANTHC Behavioral Health Aide staff led by Laura Baez and Xiomara Owens. ANTHC shared how they integrate training and advancement in the field of behavioral health to strengthen their workforce along with the history of how the BHA program came about. Using programs like the Rural Human Services Program and the development of distance delivered training, they have developed a training program that will continue to address the behavioral health needs of Alaska Natives.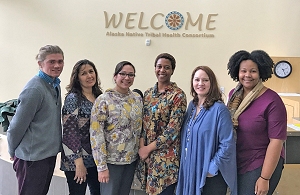 Meeting with the Community Health Services Division, we learned about how they integrate wellness and community health initiatives into their behavioral health workforce through programs like the Elder Care Outreach Exit Disclaimer: You Are Leaving www.ihs.gov , the Methamphetamine and Suicide Prevention Initiative (MSPI), and the Rural Aftercare Program Exit Disclaimer: You Are Leaving www.ihs.gov ; which provides continual care to rural Alaskans that have had suicidality in their past. The integration of ANTHC's Community Health Services programs proved to be valuable to the behavioral health aide model. We heard countless stories about the value of having members of the community as BHAs and the challenges that come with a BHA that may be working almost 24/7, as they are seen as a source of strength within their community.
We conducted roundtable discussions with tribal behavioral health directors and clinical supervisors to learn about barriers to care, succession planning, work-life balance amongst behavioral health aides, additional workforce challenges, and innovation in service delivery. Through these roundtables, we learned how they preserve institutional knowledge, how common it is to have generations of aides within a family, and how they encourage self-care amongst their behavioral health aides. The self-care concept was echoed with the BHA program staff with events such as "Healing of the Healers" and the Behavioral Health Aide Forum, which aims to foster a sense of community amongst behavioral health aides who are spread across the state. The behavioral health aides are entrenched in serving their community often times with little support in the remote villages.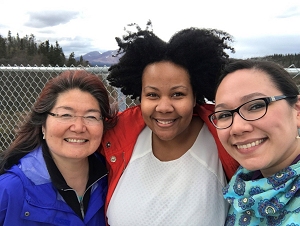 Halfway through my trip, I had the opportunity to fly to Dillingham, Alaska where had the chance to meet with practicing behavioral health aides, clinical supervisors, and leadership at the Bristol Bay Area Health Corporation. These aides worked in their field for several years, working their way up through the levels of a BHA. These aides explained how they integrate their traditional practices into service delivery like attending fish camps, berry picking and cultural camps. The aides shared their advice to future BHA's and their hope for the future of BHA's including wanting to see more young men join the field to serve their community.
One BHA in particular, Pansy, who is based out of Manokotak shared her journey to becoming a Behavioral Health Aide Practitioner (BHAP), which is the highest level of the program. She shared her passion for the work and balancing the clinical requirements and processes of the position. When asked to share advice to future BHA's, Pansy echoed that they should all "walk the talk."
I had the pleasure of visiting Aleknagik with both Pansy and Alicia Ambrosio to revel in the beauty of Alaska's scenic landscape. Pansy was candid in her experiences and we had the chance to bond which eventually led to her giving me a traditional Yupik name, Piikamken (pronounced bee-gum-ken), which means "You are mine." Getting the opportunity to talk to the women and men who change the lives of their communities was truly rewarding and the advice they provided was invaluable as we began developing a plan for our very own behavioral health aide program.
We rounded out the trip with a visit to the CHAP where they provided advice on developing a robust but responsive program in the lower 48. I also met with the Alaska's Department of Behavioral Health where they broke down how legislative changes impacts their ability to bill for their services and how partnerships with the state has proven to be vital to expanding their training and certification efforts.
The trip to Alaska proved to be enriching and will surely be an integral part to the development of a national CHAP in the lower 48.
Related Content: