I am so pleased to share with you that on Thursday, May 18, Albuquerque Indian Health Center inaugurated a new optometry clinic. The optometry clinic checks vision, diagnoses eye diseases, and dispenses glasses. We welcomed staff and family to a small opening ceremony to celebrate this important moment for patients. A traditional opening prayer was given by Joe Lucero, Director of Albuquerque Area Office of Information Technology and member of Isleta Pueblo. I gave opening remarks and then there were additional comments and thanks by CAPT Kerry Hile, Chief of Optometry for Albuquerque Indian Health Center. Special recognition was also given to Sandra Bitsie, Project Officer, and GrandCor Construction.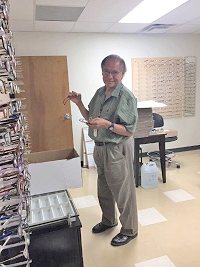 The new clinic is in a wonderful modular building, which sits near Lomas Boulevard NE, and houses the optometry clinic on the health center grounds. The building holds a waiting room and check-in space, 6 exam rooms, an eyeglasses gallery, patient restrooms, and a state of the art audiology booth. The adobe-type exterior of the building has a stucco finish to blend with the historic buildings elsewhere on our campus. Our staff is so excited about providing excellent patient care in such a spacious and accommodating environment.
The previous optometry clinic was located inside the hospital in a space the team had outgrown. They saw more patients and had more staff than could comfortably fit. That space will be converted to additional exam rooms for specialty care services. The Albuquerque Indian Health Center is one of the oldest buildings in the Indian health system, with parts of the building dating to 1936. We respect and preserve this historic heritage while also ensuring that our facilities support modern, high-tech health care.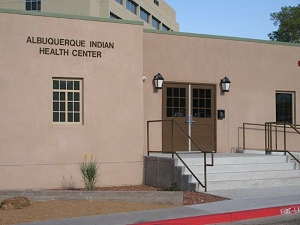 Related Content
Follow IHS Albuquerque Area on Facebook Exit Disclaimer: You Are Leaving www.ihs.gov
IHS Job Opportunities in Optometry