Lt. Cmdr. Amanda Swallow (Oglala Lakota), originally from Porcupine, SD, has worked for IHS for 11 years. Lt. Cmdr. Swallow currently serves as the Quality Management Director for the Whiteriver Service Unit in Arizona, and attended Creighton University to become a physical therapist.
Lt. Cmdr. Swallow supervises 11 programs and enthusiastically gives credit to her staff for all successes accomplished through team effort. Among her passions are a drive to improve function and cut waste in health care. Recently, her work to create an internal auditing process enabled Whiteriver to recoup a quarterly average of 2.5 million dollars on previously missed third party billing claims. They have accomplished this through collaborative roundtable meetings and by drawing on the knowledge and expertise of billers, coders, compliance officers and department representatives who work together to review, discuss and standardize processes. This multidisciplinary approach helps elevate the understanding and competencies of all involved.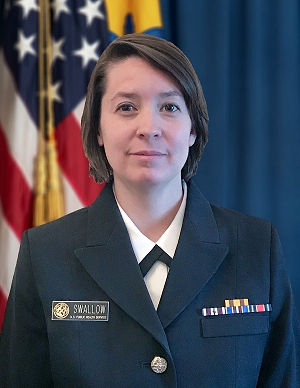 Also passionate about maintaining accreditation readiness, Lt. Cmdr. Swallow leads continuous survey readiness activities at Whiteriver. Her leadership and guidance was instrumental in Whiteriver's reaccreditation by The Joint Commission in 2016, her focus on sharing knowledge and capacity about the importance of accreditation and surveys for all staff has raised awareness across the facility. Frontline staff are provided the knowledge and preparation needed to respond to surveyors' questions and speak to regulations. Through her efforts, Quality Management is engaging departments and empowering individuals to share the responsibility of survey readiness.
In late 2016, Lt. Cmdr. Swallow was deployed to lead Quality Management efforts at Rosebud Hospital. Throughout five months spent in the Great Plains Area, she cultivated relationships amongst her local colleagues, working together to create an atmosphere of collaborative change and establishing effective and sustainable processes that continue to support quality improvement in the Great Plains Area.
These are just a few examples of how Indian Health Service colleagues respect and offer support to one another as family, no matter which duty station they are assigned to serve; together achieving our mission of improving the physical, mental, social, and spiritual health of the American Indian and Alaska Native communities we serve.
Related Content:
Meet Phoenix Area Chef Adam Mullett
Men's Health Month: Routine Exams are Critical