The Bemidji Area Indian Health Service partnered with the Substance Abuse and Mental Health Services Administration (SAMHSA), Wisconsin Department of Health Services and the Lac Du Flambeau Family Resources Department in presenting a three-day alcohol and drug abuse prevention conference last week.
The conference provided information and resources to help tribes develop culturally-competent prevention strategies focusing on community strengths and capacities to change the culture of alcohol and drug abuse.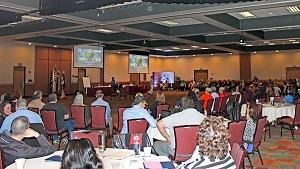 Tribes received intensive technical assistance, training and support to help them develop Tribal Action Plans (TAP) aimed at healthy-living objectives and preventing substance use, fetal alcohol syndrome and suicide. Participants left with USB drives loaded with resources.
Local, state and national representatives were onsite and available for one-on-one discussions. Four tribes requested in-depth technical assistance from federal partners in developing TAPs for their tribal communities. Wisconsin Secretary of Health Services Kitty Rhodes also met with tribal leaders.
Organizers highlighted effective programs and strategies on substance abuse prevention in Indian Country throughout the conference. They emphasized capacity building and strategic planning for sustainable prevention efforts.
A concerted effort was made by all the partners involved to seek the tribal voice while planning the conference. Tribal behavioral health and social services program leaders participated in the planning, resulting in a unique and culturally appropriate educational experience.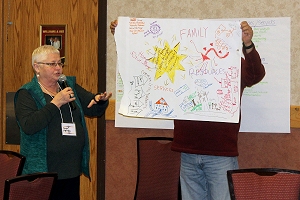 One of the biggest deviations from contemporary conference formats was the use of a Gathering of Native Americans (GONA) format. Seprieono Locario from SAMHSA's Tribal Training and Technical Assistance Center and Maria Trevizo a GONA facilitator co-facilitated the conference, which was far more interactive than a traditional conference. This served to amplify the tribal voice of the participants. Attendees participated in native crafts such as beadwork while engaging in introspection brought about by the use of talking circles.
Trevizo led the participants through the development of community asset maps and their respective tribe's community story. By the end of the conference, attendees had completed a community-readiness assessment which identified their top five priorities.
This was the first conference put on by the Bemidji Area behavioral health office in a number of years. The conference was very well received by tribes across the Bemidji Area. The conference hotel was booked solid weeks in advance and emails streamed in steadily even after the conference reached capacity. More than 200 people attended, representing 26 tribes.
This conference was a success thanks to the contributions of our tribal, local, state and federal partners.
Chris Poole is the Bemidji Area behavioral health consultant.