On March 29, the Indian Health Service and the Yukon-Kuskokwim Health Corporation Exit Disclaimer: You Are Leaving www.ihs.gov signed a Joint Venture Construction Program Exit Disclaimer: You Are Leaving www.ihs.gov agreement, enabling the construction and renovation of nearly 265,000 square feet of an ambulatory and inpatient care facility that will be located on 23 acres in the City of Bethel, Alaska.
Under the agreement, the Tribe will construct the facility, and the IHS will request funding from Congress to staff, operate and maintain the facility for 20 years.
The agreement will result in significantly increased access to expanded health services in Bethel, including primary, specialty and emergency care; audiology; diagnostic imaging and laboratory; pharmacy; respiratory; speech, physical and occupational therapy; surgery, acute and preventative care; labor and delivery; and support services.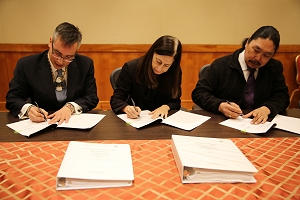 The facility will serve not only members of the Yukon-Kuskokwim Health Corporation, but all American Indians and Alaska Natives in the service area. Yukon-Kuskokwim Health Corporation administers a comprehensive health care delivery system for 58 rural communities in southwest Alaska. This system includes regional hospitals, sub regional clinics and community clinics.
This project is a significant step forward in providing quality and continuity of health care, especially considering the difficult logistics that go into shipping materials and constructing facilities. IHS looks forward to seeing the project completed, which will be done in three stages.
IHS thanks the Health Corporation, Alaska Area staff and the partners at the U.S. Department of Agriculture's Rural Development for their involvement and innovative approach to this ambitious project.
This health facility will join a long and growing list of facilities operated under the JVCP. For more than two decades, the competitive Indian Health Service Joint Venture Construction Program has strengthened partnerships with Tribes across the country and ensured that comprehensive, culturally acceptable health services are available and accessible to American Indian and Alaska Native people.
Gary J. Hartz, P.E. leads IHS efforts to provide functional, well maintained health care facilities and staff housing, technical and financial assistance to Tribes on safe water and wastewater systems and a broad range of environmental health and injury prevention activities.