In recognition of March being National Nutrition Month, we acknowledge that food is more than fuel that nourishes our bodies. It brings people together. It connects us to our family and ancestors.
Our diets and the foods available to us have changed over time, which has contributed to an increase in chronic diseases and other illnesses. Many nutrition efforts in Indian Country have helped address these concerns. Diabetes prevention and treatment programs have made advances in tribal communities, food advocates have built a movement to bring back traditional food ways, and there are more innovative nutrition programs offered throughout the Indian health system.
There is much to be celebrated. There is also more to be done, such as making sure the people we serve have consistent access to nutritious foods. It starts with each of us. When aiming to eat more healthfully, our focus should be on being mindful of the types and quality of foods we eat. We can also be food advocates by helping others get the assistance they need to have enough healthy food.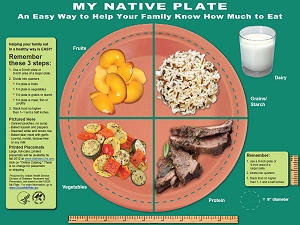 Lead the Way by Making Healthy Food Choices
Eating healthfully includes consuming:
Plenty of fruits and vegetables
Healthy sources of protein (like plant-based foods, beans, or lean meats)
Good sources of fats (like nuts, seeds, fish, avocados, or vegetable oils)
Whole grains (like wild rice or quinoa)
Water, rather than sweetened drinks
Foods that are minimally processed
Nutritious foods like berries, nuts, seeds, wild rice, native plants, corn, squash, and other indigenous foods should also be eaten regularly, if available.
Be a Food Advocate in Your Indian Community
Challenges exist that prevent people from eating healthfully all of the time. Things like access to healthy foods, family or work obligations, stress level, finding the time to prepare meals, and even one's cooking experience are common issues that can keep someone from eating healthy. Understanding these challenges is important when acting as a food advocate. Food advocates can be registered dietitian nutritionists, dietetic technicians, nurses, diabetes educators, local food producers, wellness program staff, and anyone with an interest in helping others access healthful food.
Nutrition Resources for American Indians and Alaska Natives
Kelli Begay, an enrolled member of the Kickapoo Tribe of Oklahoma, is a registered dietitian nutritionist. In her role as the Nutrition Consultant for the IHS Division of Diabetes Treatment and Prevention, Mrs. Begay works with food and nutrition advocates on improving the nutrition status of American Indian and Alaska Native people
.