Yvonne Iverson, a member of the Confederated Tribes of Warm Springs, has a family history of diabetes and was diagnosed in 2000 with gestational diabetes, a type of diabetes that develops only during pregnancy, usually disappears upon delivery, and increases the mother's risk of developing diabetes later in life. Concerned that she was at risk for developing diabetes, Yvonne recently enrolled in the Special Diabetes Program for Indians (SDPI) Diabetes Prevention Program at Warm Springs Health and Wellness Center.
Yvonne says that the SDPI Diabetes Prevention Program has helped her reach her goals. The program encouraged her to make healthier choices, stay on track, and try new foods. Some of the healthy changes that she has implemented in her lifestyle include exercising on a regular basis and making dietary changes, such as reducing sugary beverages.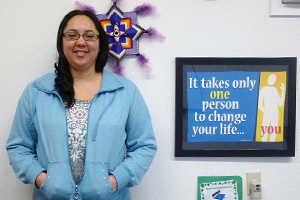 "I learned that pop and other sugary drinks are wasted calories, and have very little nutritional value for your body," Iverson said. She credits exercise and drinking water with helping her to maintain a healthy weight.
Nearly six months after completing the 16 week program, Yvonne remains actively involved with the program and continues to see her lifestyle coach. Yvonne's biggest success since joining the program has been reducing her LDL cholesterol (the "bad" cholesterol) by 50 points. She has done this by watching what she eats and being more physically active.
Yvonne, who also works at the health center as a budget analyst, encourages others in the community to work with their health care team to reduce their risk for diabetes.
Diabetes is preventable. Studies have shown Exit Disclaimer: You Are Leaving www.ihs.gov that people at high risk for diabetes can prevent or delay the onset of the disease by losing 5 to 7 percent of their weight.
Here are a few things you can do to help prevent diabetes:
Be physically active for at least 30 minutes on most days of the week.
Eat more fresh vegetables and fruits. Ask about food assistance programs in your community to help you get nutritious foods for your family.
Talk to your health care team about programs in your community that you can work with to reach your health goals.
Dean M. Seyler, a member of the Confederated Tribes of Warm Springs Reservation of Oregon, joined IHS in 1995. The Portland Area IHS serves more than 100,000 American Indians/Alaska Natives, primarily members of the 43 federally recognized Tribes in Oregon, Washington, and Idaho.