National Nurses Week is observed annually from May 6 to 12 to honor the dedicated service of nurses throughout the country and to acknowledge the vital role nurses play in society.
IHS nurses fulfill critical roles in clinics, hospitals and public health outreach programs that are vital to the health of American Indian and Alaska Native individuals, families and communities.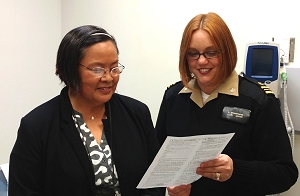 In recognition of Nurses Week, the Portland Area highlights the Chemawa Indian Health Clinic nursing team as leaders in supporting the mission of the Indian Health Service. Located in Salem, Oregon, the clinic is the primary health care facility for the Chemawa Indian School and provides care to more than 5500 community patients from over 290 recognized tribes.
In fiscal year 2016, the nursing team has focused on educating all of our health care employees in the importance of influenza vaccination. Nursing staff has provided in-services and in-department vaccination services to reach a 99% vaccination rate within the facility.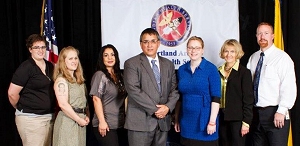 These nurses demonstrate best practices in the delivery of health care to Native Americans and Alaska Natives and model the core values of the Western Oregon Service Unit: Trust, Respect, Integrity, Willingness, and Learning. This team is committed to the clinic's strategic purpose to "Provide a legacy of wellness as your trusted partner of choice."
Capt. Laura Herbison, RN, has been with the Indian Health Service since 2002. Throughout her career she has served as a clinical pediatric nurse, ER nurse, director of nursing, collaborative director for the National Improving Patient Care initiative, and currently serves as chief executive officer of the Western Oregon Service Unit.