Today I gave remarks at the Department of Health and Human Services annual American Indian and Alaska Native Heritage Month event in Washington, D.C. The theme was: Our Native Elders: Our Past. Our Present. Our Future. I shared my own story of my Cherokee heritage, which begins with my grandmother, Ora Mae Pallone. My grandmother was born in 1905 in Westville, Oklahoma – a little town near the Oklahoma-Arkansas border. Her father signed her up on the Dawes Rolls.
My grandmother grew up in a farm during a time when people worked on the farm all day long. She used to regale my sister and me with stories of walking miles to school with her lunch pail, and trading her low-brow homemade biscuits with the more high-brow white bread, or as my grandmother called it, "light bread." I think most of us today would choose the homemade biscuits.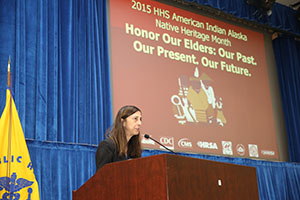 Some of the things I remember most about my grandmother were her strength, determination and perseverance. My grandmother also grew up in a time when she was expected to just go to school through eighth grade. But it never stopped her. My grandmother fought so that the next generation would be better off.I have the same vision for Native Americans across this country. I want to work to improve the lives of those living now and particularly for the next generation. My position at the Indian Health Service allows me to do just that. We are making tremendous efforts to improve access to elder care, and IHS also joins the White House and Indian Country in making Native youth a priority. It's important for elders and youth to make connections.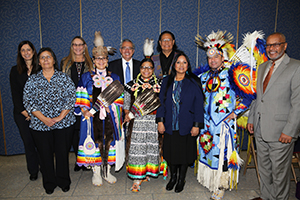 At IHS, we are so proud of the Generation-Indigenous activities we are pushing forward in the agency.We hired dozens of Pathways positions for students and recent graduates across all IHS Areas this past summer. Additionally, our scholarship and extern programs encourage Native youth to consider a career in the health professions and give them a taste of what it's like.
In Tribal communities, the elder population is revered as they are the keepers of the traditional stories and songs. They can help provide strength to our youth, who are overcoming social, physical and emotional obstacles every day.
I look at American Indian and Alaska Native Heritage Month as a time to educate and increase awareness about critical issues that Tribes are facing today. Let's celebrate all Native people during November and every day – in the home, in the classroom, in the prayer circle and especially in the community.
The Indian Health Service will continue to raise the physical, mental, social and spiritual health of American Indians and Alaska Natives to the highest level. We celebrate Heritage Month with you.
Mary L. Smith, a member of the Cherokee Nation, is the Deputy Director of the Indian Health Service. As Deputy Director, Ms. Smith provides leadership on the progress IHS has made in behavioral health and native youth initiatives, such as Generation Indigenous. She also serves as the primary IHS liaison to other federal agencies.