The Indian Health Service has launched an exciting new program using telehealth to improve the health status of American Indian and Alaska Native veterans. The partnership will allow eligible veterans at IHS facilities to be seen and treated by physicians at VA medical centers through the use of technology such as videoconferencing, transmission of still images, electronic health records and remote monitoring of vital signs.
By working together to advance telehealth services, we can increase access to care for our native veterans. The IHS and the VA both face challenges in providing care in rural areas, including access to transportation. This program will allow patients to receive specialized care nearer to home instead of travelling long distances to see a specialist. By expanding access to specialty care, we are improving the quality of health care our patients receive.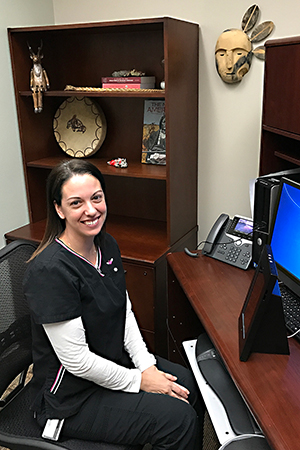 The first IHS facility participating in the new program is the Chemawa Health Center in Salem, Oregon. This is a comprehensive family health care facility serving American Indians and Alaska Natives from more than 100 tribes.
Individuals eligible for care from both IHS and the VA will receive specialized behavioral health care from VA providers in the IHS facility through telehealth. Collaboration between the IHS care team and VA specialists will strengthen the patient-centered care provided to veterans as they move forward. There are approximately 300 American Indian and Alaska Native veteran patients in the Chemawa Health Center service area. The new system is operational and we are getting the word out to native veterans in the area.
Telehealth services use electronic communications to facilitate the provision of health care, with clinical appointments provided remotely, as well as some nonclinical services such as provider training. In some cases, specialty care furnished through telehealth is supplemented by a nurse or assistant who is co-located in the room with the patient. Telehealth delivery is provided in a private office and the connection is encrypted to protect patient privacy. IHS has found that telehealth can be one of the best ways to get health care services where they are needed most.
IHS has a long history of using telehealth to meet the needs of patients:
The IHS TeleBehavioral Health Center of Excellence was established in 2009 to provide behavioral health services for patients across the Indian health system. The Center works to provide, promote and support the delivery of high quality, culturally competent telebehavioral health services to American Indians and Alaska Natives. Read more: https://www.ihs.gov/telebehavioral.
The IHS Teleophthalmology Program was established in 2001 to screen IHS patients across the country for diabetic retinopathy, the leading cause of blindness in patients with diabetes. Read more: https://www.ihs.gov/teleophthalmology.
The new initiative builds on an existing IHS-VA partnership of coordination, collaboration, and resource-sharing between VA and IHS. Other examples of the partnership include the use of the VA's Consolidated Mail Outpatient Pharmacy to increase efficiency and reduce cost for prescriptions, and reimbursement for services provided to eligible American Indian and Alaska Native Veterans.
Dean M. Seyler, a member of the Confederated Tribes of Warm Springs Reservation of Oregon, joined IHS in 1995. The Portland Area IHS serves more than 100,000 American Indians/Alaska Natives, primarily members of the 43 federally recognized Tribes in Oregon, Washington, and Idaho.