Every autumn, farmers in Shiprock, New Mexico harvest, steam and dry their Indian corn to make traditional nas chizhi stew, a delicious and popular soup made with dried corn and meat, usually mutton or lamb. Fertile soils and irrigation canals make the town's Mesa Farm area great for farming but problematic for on-site wastewater disposal. Over 300 homes in the area use septic tanks with drain fields to dispose of wastewater on-site. Irrigation raises the water table, preventing many drain fields from emptying properly. Instead, wastewater accumulates and then surfaces in yards or homes, causing serious environmental health concerns.
Mrs. Marilynn Johnson-King and 82 other families in the Mesa Farm area of Shiprock, New Mexico are grateful for the new vacuum sewer system that was completed in 2015, the first of its kind on the Navajo Nation. She lives in the same area where her grandparents lived and farmed for many years. Prior to the vacuum sewer system, the families in the area had water back-ups in the septic tanks. She commented that they couldn't wash or use the washer because of the water and raw sewage was coming out of the homes and pooling.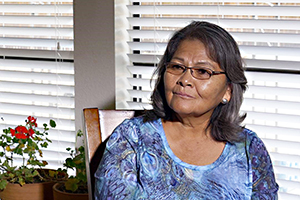 Now, with the vacuum sewer system her family is able to do a lot of things that they didn't do before and they don't have to worry about getting sick. Mrs. King-Johnson says that her neighbors also like the idea of being connected to a sewer system because it feels healthier and it feels cleaner.
The project began in 2004 when Shiprock's community leadership requested that the Indian Health Service Sanitation Facilities Construction program plan a community sewer system to eliminate the use of drain fields in the Mesa Farm area. The goal of the IHS Division of Sanitation Facilities Construction program is to improve the health of Native American people by improving access to sanitation facilities like water and wastewater infrastructure.
Initially, the IHS project team began planning a gravity sewer system. However, several obstacles were encountered in the rocky terrain of the Mesa Farm area. Flat topography required sewer depths exceeding 20 feet in some areas. Narrow roads and existing utilities like high voltage power lines and aging asbestos cement water lines provided little space for excavating the proposed deep trenches. The water table was near the surface in some places and the soil was unstable for trenches. The construction costs for a gravity sewer were too expensive.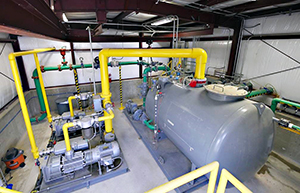 Other types of sewer systems were investigated and the vacuum sewer system was determined to be more cost effective than a gravity sewer system. Vacuum sewer systems assist wastewater movement with the use of vacuum pumps and air valves. A vacuum sewer system usually allows for more line placement options, shallower trenches and easier field alignment changes. The capital costs for the vacuum sewer system can be significantly lower in areas where high groundwater, unstable soils, congested utilities, flat or difficult terrain, right-of-way restrictions or other challenges exist. Operations and maintenance costs may be higher for vacuum sewer systems unless one vacuum station can replace several proposed gravity lift stations. A vacuum sewer system may be the most economically feasible solution when site constraints make gravity sewer prohibitively expensive.
Other partners assisted in making the project a reality. The design of the vacuum sewer system was finalized in August 2013 and the Navajo Engineering and Construction Authority Exit Disclaimer: You Are Leaving www.ihs.gov , a tribal enterprise and contractor for the project, began construction that same month. The $2.8 million dollar project was completed in August 2015. The Navajo Tribal Utility Authority operates and maintains the system. The project successfully eliminated 83 septic tank and drain field systems in the Mesa Farm area. Several hundred homes in the Mesa Farm area are waiting for subsequent phases of the sewer project. This successful project will serve as a case study for other communities on the Navajo Nation seeking to extend community sewer services into areas where gravity sewer systems may not be feasible.
Although the families have to pay a small fee for the vacuum sewer services, Mrs. King-Johnson stated that the benefits far outweigh what one would have to pay for it and just having that peace of mind that one knows that you are safe and you are healthy. It also assures the community of Mesa Farm that there will be less disease due to water-borne illnesses in this rural Southwestern region, thanks to the Indian Health Service.
Colin Daly, P.E., Field Engineer, Office of Environmental Health and Engineering, Shiprock Service Unit, Navajo Area Indian Health Service.