September 26, 2016 is World Environmental Health Day Exit Disclaimer: You Are Leaving www.ihs.gov . This day is recognized around the globe to honor the important work of environmental health professionals.
The IHS Division of Environmental Health Services (DEHS) delivers a comprehensive environmental health program to more than 2.2 million American Indians and Alaska Natives (AI/AN) in 35 states. A group of 282 federal and tribal Environmental Health professionals accomplish this work.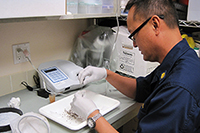 DEHS staff provide direct services and technical assistance to tribes, collect data for action at the community level, identify and control risk factors that affect the health of the community, implement and evaluate local environmental health projects and interventions, advocate at the federal and regional levels, and build the capacity of tribes to manage their own environmental health programs.
DEHS has identified five national focus areas that serve as our national priorities:
Children's environment
Safe drinking water
Food safety
Vector borne and communicable diseases
Healthy homes
In addition, there are two specialty programs within the DEHS program, Community Injury Prevention and Institutional Environmental Health.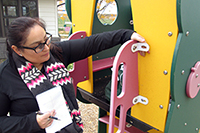 Community Injury Prevention Program - DEHS staff provide expertise in the prevention of both unintentional injury (i.e., motor vehicle crashes, falls) and intentional injury (i.e., suicide, assaults). The Injury Prevention Program places priority on epidemiology, training, partnership building and the implementation of proven intervention strategies to reduce injuries. In 2016, DEHS provided nearly $900,000 to fund tribal cooperative agreement programs and projects to prevent injuries due to motor vehicle crashes and elderly falls.
Institutional Environmental Health Program - The Institutional Environmental Health program provides occupational safety and industrial hygiene services, accreditation consultation and a variety of safety training to IHS and Tribal healthcare facilities. DEHS also provides technical support services in community institutions.
Examples of services provided by DEHS staff to aid in the elimination of environmentally related diseases and injuries are:
Assessment
Monitor over 19,000 establishments, including:

Food establishments to improve food safety for consumers
Healthcare facilities to increase safety, infection control and accreditation compliance
Children's environments (e.g., Head Start programs, schools, day cares) to identify and reduce hazardous environmental conditions to children
Homes to identify and reduce environmental hazards for all occupants
Complex institutions (e.g., correctional facilities, casinos and recreational facilities) to identify and reduce environmental hazards
Water and waste water systems to ensure safe drinking water and safe disposal of waste water
Conduct vector borne and communicable disease and injury surveillance and investigation
Policy Development
Work with tribal councils and health departments to pass policy and laws that keep people safe (e.g., fire safety, motor vehicle occupant restraint, healthy housing, animal control)
Assurance
Provide technical assistance to tribal establishment operators, tribal leaders and others to prevent unhealthy conditions
Provide training on issues such as food and water safety, safe housing, emergency preparedness and response, community collaboration, injury prevention and vector borne and communicable diseases
Develop the capacity of tribal communities to manage their own environmental health programs
The work of the DEHS program is important, extensive and impactful. Please join me on World Environmental Health Day to recognize our environmental health professionals. If you would like more information about the IHS Environmental Health Program, please visit our website.
CAPT Kelly Taylor is the Director of the Division of Environmental Health Services for the Indian Health Service. She has served American Indians and Alaska Natives for over 26 years.