Tobianne Aguilera is more than just an employee at the Patient Registration desk in the Rosebud Hospital. She's a trusted friend to the patients that walk through the door or call every day. Patients feel comfortable talking with Tobianne because she always has a welcoming smile on her face, kind words to share, and she is genuinely willing to help those who need it.
Tobianne connects so well with the patients who visit the hospital, because she is a community member herself. As a member of the Rosebud Sioux Tribe, she grew up on the Rosebud reservation and utilized the Indian Health Service for her health care needs. Her parents and grandparents are pillars of the community. She attributes her passion for helping people and going into the health care field to her family who taught her to always be caring and helpful, and to live up to her Lakota name, Ota Wic'aku Win, "Gives Plenty Woman."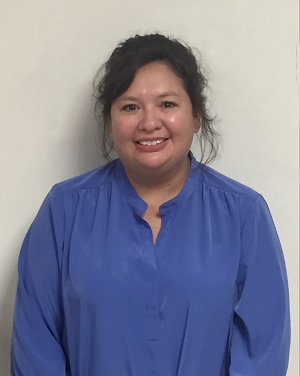 Tobianne joined IHS in 2012 first at Sioux San Hospital then transferring to the Rosebud Hospital. Her entire career has been in health care from working at a tribally-owned native women's clinic in Rapid City to the private sector in obstetrics and pediatrics. Tobianne prides herself on providing good customer service and is always working toward improving patient care at the Rosebud Hospital.
She likes the challenge of working at Patient Registration – a job that is fast-paced, high impact and requires multitasking. She enjoys helping the patients, from getting their medication refilled to scheduling an appointment. The staff at Patient Registration do not just check in patients, they often share information needed about health care programs, education for eligibility, not only for insurance but also for other departments such as Purchased/Referred Care and medical records.
Tobianne, who has two daughters, lives in the hospital housing and spends most of her free time involved in her eldest child's sports activities.
CAPT Michael Weahkee (Zuni) is the Acting CEO of the Rosebud Service Unit. CAPT Weahkee also served at IHS headquarters in a variety of posts including Executive Officer for the Office of Clinical and Preventive Services, Director of the Management Policy and Internal Control Staff; and as Deputy Director for Personnel Functions in the Office of Management Services.