The Indian Health Service continues to work closely with our tribal partners to coordinate a comprehensive public health response to COVID-19. Read the latest info.
IHS Care Model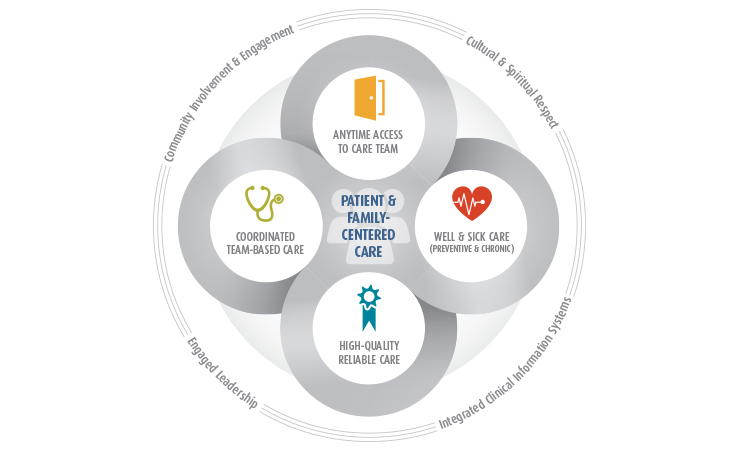 IHS clinical leadership recognizes that fundamental changes in our system of care are required in order to achieve new standards of care. The IHS Care Model incorporates the following key elements:
Anytime Access to the Care Team — Every patient has a relationship with his or her provider and care team that offers consistent and reliable access. Patients will receive care when they need it, whether it be in-person, via phone or by secure messaging through the patient portal.
Well Care and Sick Care (Preventive and Chronic Care) — Patients become partners in their health by using various methods of preventive care (screenings, check-ups, nutritional and behavioral counseling) so they remain healthy, which reduces occurrence of sickness and disease. And working with their provider, patients will learn how to self-manage chronic disease by engaging in goal setting, problem solving and action planning.
High-quality, Reliable Care — All Indian health care providers have the skills and training to deliver high-quality, reliable care for patients. System improvements will fully enable providers to use those skills and to remain current as science changes over time. Measurable outcomes and data are used to make improvements and build better systems of care.
Coordinated Team-based Care — This "care team" approach applies to creating highly functioning teams who are able to coordinate care that meets the needs of every patient.
The following foundations support the care model elements (above):
Community Involvement and Engagement — Health care quality improves when the entire community is engaged and works together to improve overall health.
Cultural and Spiritual Respect — IHS recognizes cultural and spiritual respect as crucial components of healing.
Integrated Clinical Information Systems — Integrated medical record systems, which combine multiple information sources used by the care team, ensure both holistic patient care and information security. Health care quality improves with the combined use of the Electronic Health Record (EHR) and patient management systems.
Engaged Leadership — Health care quality improves as facility leaders embrace improving patient care and focus staff energy on improvement work.