The Indian Health Service continues to work closely with our tribal partners to coordinate a comprehensive public health response to COVID-19. Read the latest info.
Scams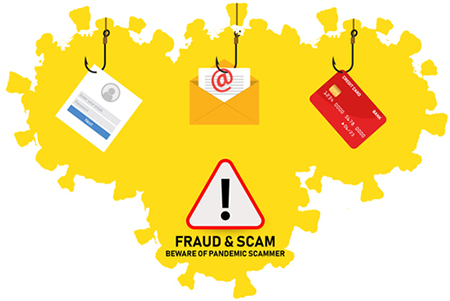 Be aware that criminals are attempting to exploit COVID-19 worldwide through a variety of scams.
Be on the lookout for antibody testing fraud schemes. Never share your personal or health information to anyone other than known and trusted medical professionals. Learn more about what to avoid.

Be cautious of unsolicited healthcare fraud schemes of testing and treatment through emails, phone calls, or in person. The U.S. has medical professionals and scientist working hard to find a cure, approved treatment, and vaccine for COVID-19. Learn more about what to avoid.

Be wary of unsolicited telephone calls and e-mails from individuals claiming to be IRS and Treasury employees. Remember the IRS first form of communications is by mail - not by phone. Learn more about fraudulent schemes related to the IRS.

Be aware of unemployment insurance fraud and learn the steps to take if you suspect criminals have exploited your identity. Learn more about unemployment insurance fraud.

Be on the lookout for robocalls making fraudulent offers to sell respiratory masks or other medical devices, telephone calls to individuals and entities, including state and local governments, offering the sale of large amounts of Personal Protection Equipment (PPE) and demanding advance payments. These bad actors have no intent of delivery. Look out for sales of counterfeit, tampered, or otherwise fraudulent PPE, including N95 masks, gloves, and surgical gowns.

Be aware of unsolicited requests for your Medicare information, even if they are accompanied by offers of "free" COVID-19 tests or supplies, or an email or call by someone claiming to be a representative from Medicare or the Department of Health and Human Services. Scammers may use your Medicare information to submit false medical claims for unrelated, unnecessary, or fictitious services. Learn more about fraudulent health care schemes.

Be on the lookout for telephone calls by individuals posing as government officials or payment facilitators promising CARES Act stimulus payments and asking for personal identifying information, such as full name, address, and social security number. Also be aware of mass-mailing, spam email, or text-message campaigns to perpetrate government-imposter schemes. These forms of communication provide a website, a phone number, or an email address for consumers to contact to arrange for stimulus payments upon payment of an advanced fee or threatening adverse consequences for failure to cooperate with the alleged stimulus-related transaction. Remember, legitimate stimulus transactions will never require you to pay any amount to qualify for or receive them.
Be wary of calls claiming you received an overpayment of the stimulus money and demanding a "refund" of the difference. Consumers may be threatened with adverse consequences such as fines, forfeiture, or arrest if they refuse to refund the money. Callers may demand payments by stored value cards, such as iTunes, Google play, or Steam cards, or by money transmission such as Western Union or MoneyGram. They may request that you drive to purchase those cards while they are still on the phone with you.
FBI Executive Discusses COVID-19 Relates Schemes
Steven Merrill, head of the FBI's Financial Crimes Section, has laid out some of the scams and crimes related to the COVID-19 pandemic.
Click here to get the latest information on the schemes the FBI is investigating and tips on how to protect yourself.