Claremore Indian Hospital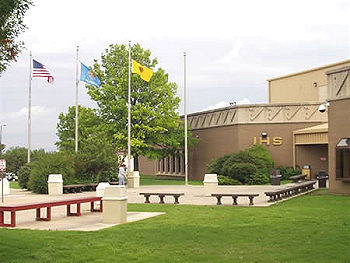 Claremore Indian Hospital is a government owned and operated facility providing inpatient services and outpatient care through nine organized clinical services. All of these departments are headed by board-certified or board-eligible chiefs of service.

Leadership
Chief Executive Officer: George Valliere, 918-342-6434
Administrative Officer: CDR Carl Murray, 918-342-6434
(A) Ambulatory Care Director: CDR Jodi Tricinella, 918-342-6412
Address
101 South Moore Avenue
Claremore, OK 74017 Exit Disclaimer: You Are Leaving www.ihs.gov

Access Your Health Record
Click on the link to learn how
How to sign up for the PHR [PDF - 67 KB]

Hours of Operation
Clinic hours are Monday through Friday
7 a.m. to 4 p.m.
Emergency Department - 24/7

Who should I call?
Medical Clinic: 918-342-6658
Walk-In Clinic: 918-342-6658
Women's Clinic: 918-342-6521
General Hospital: 918-342-6200
Purchased Referred Care (PRC): 918-342-6355
COVID Testing Clinic: 918-342-6620
COVID Vaccine Clinic: 918-342-6698
Referrals
Payment for medical care outside an IHS facility can only be authorized by a PRC official if funds are available. All referrals are date specific and any further treatment shall require prior authorization for payment by PRC. The PRC referral is for ONE VISIT.
Emergency Services
You must contact PRC at 918-342-6355 within 72 hours of receiving emergency care at a non-Indian Health Service facility. For an elderly or disabled person receiving emergency care, this may be extended to 30 days. If a patient is unable to contact PRC, a person acting on their behalf must contact PRC within the same time limits. All non-emergency care must be preauthorized by PRC before receiving medical treatment.
---
Services
Audiology
Behavioral Health
Dental
Diabetes Education
Dietitians
Emergency Department
Eye Care
Laboratory
Medicine
OBGYN
Outpatient Pharmacy
Pediatrics
Physical Therapy
Radiology Services
Surgery
WIC Program
Nearby Indian Health Service and Tribal Facilities
Bartlesville Health Center, 501 E 5th Street, Bartlesville, OK, 918-336-0823
Northeastern Tribal Health System

, 7600 S Highway 69A, Miami, OK 74354, 918-542-1655
Sam Hider Health Center, 1015 Washbourne, Jay, OK, 74346, 918-253-4271
Three Rivers Health Center, 1001 S 41st Street East, Muskogee, OK, 74403, 918-781-6500
Cherokee Nation Nawata Clinic, 1020 Lenape Drive, Nowata, OK, 74048, 918-273-0192
AMO Health Center, 900 N Owen Walters Blvd., Salina, OK, 74365, 918-434-8500
Redbird Smith Health Center, 301 S. JT Stites Blvd., Sallisaw, OK, 74955, 918-775-9150
Wilma P. Mankiller Health Center, Hwy 51 East, Stilwell, OK, 74960, 918-696-8800
W.W. Hastings Hospital, 100 S Bliss Ave., Tahlequah, OK, 74464, 918-458-3100
Vinita Health Center, 27371 S. 4410 Rd, Vinita, OK, 74301, 918-256-4800