Stories

Quickly jump to a section on this page by clicking on one of the links below.
The Power of Digital Storytelling

Portland Area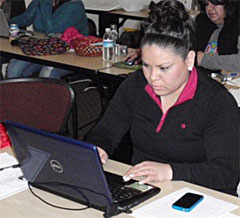 Student at computer typing her digital story script.
When Port Gamble/S'Klallam Tribal member Tleena Ives and her sister first watched Tleena's digital story, they cried. Her story is called "Tleena's Paddle." In it she compares her journey of losing 100 pounds to a traditional canoe paddle on the waters of the Coast Salish people. While watching, Tleena realized she had a story to tell, one that could help people. She also acknowledged the pain she had gone through, and that the pain was temporary. "When I see the pictures of me struggling, I know that they were just moments. They were not permanent. I realized I can overcome adversity."
Joe Law, Health Promotion Coordinator for the Portland Area IHS, says being profoundly affected by your own digital story is not uncommon. "A person sees that it is their own story. 'This happened to me, and this is what I did to overcome it.' It's empowering." Joe has been teaching Native community members how to produce digital stories since 2010. Other IHS Area Health Promotion Disease Prevention (HPDP) Coordinators teach it as well. Joe has taught before, but had no video production experience before he started teaching digital storytelling.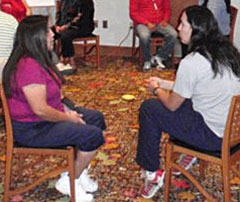 Two women participating in a story circle.
Joe says digital storytelling is becoming more common. It is relatively inexpensive. Production software can be downloaded off the internet. The visuals can also be downloaded, or photographed with small cameras or phones. The only equipment the Portland Area IHS needed to buy was a microphone.
Here are the steps students take to produce their digital stories:
Write and read a 5-minute piece that incorporates student's name, and a few words like rez and frybread. This "free writing" exercise gets students comfortable with writing and sharing their writing.
Write a script, either a Public Service Announcement or a personal story. Teachers help with editing it to 300 words.
In a "Story Circle," each student reads their script. When students hear other students' personal stories, they often change their stories to more personal ones.
Gather photos to match script. These are personal photos, or copyright-free photos from the internet.
Record their scripts in pairs. Doubling up seems to help students be more confident about having their voices recorded.
Put their audio and photos together using free editing software.
Keep their stories to share with friends and family members, and/ or post on websites

or YouTube.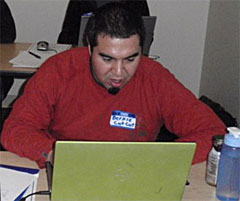 Student editing his video.
Joe says it is a balancing act to motivate students to tell stories that are uniquely their own. "I don't try to pull a certain type of story out of them," he explains. Instead he says, "Tell us what you want to tell."
The results range from PSAs on diabetes prevention to personal stories on how a divorce or alcohol abuse has affected the storyteller. In most cases, the storyteller is positively changed by this opportunity to share. Joe says when many students watch their videos, they realize they may have failed at times but they have also succeeded. They realize they have some control over the stories of their lives. They think, "Wow, I can do it."
If you are interested in putting on a digital storytelling workshop in your area, contact your IHS Area HPDP Coordinator.
Whiteriver Healthy Heart Program Builds Trust and Positive Relationships

Whiteriver, Arizona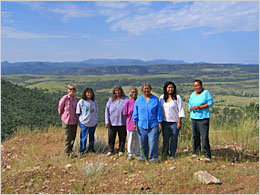 Whiteriver Healthy Heart Program
The SDPI Healthy Heart Program at the Whiteriver Indian Health Service started at the onset of the Healthy Heart Demonstration Projects, in 2005. From the beginning, the Healthy Heart Program had its own place, across the parking lot from the hospital. Over the years, the staff has prioritized the development of positive, trusting relationships between case managers and participants.
Kristy Klinger, Healthy Heart Project Coordinator, explains, "We have a dedicated place where people can go, and be asked, 'How is your life going? What is working for you? What are you willing to work on? How can we help you?"
She says extra effort is made to see participants at their scheduled time, to avoid making them wait to see their case managers. Appointments are usually 30-60 minutes long.
"By seeing participants right away, and not being rushed when we meet with them, we are showing them that they are respected. This fosters trust, and creates an opportunity for ongoing, open communication."
The relationship of trust goes beyond the exam room and the Healthy Heart office. Participants have passed on diabetes and heart health information to family members and friends.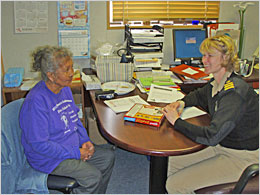 Elderly woman talking to her provider.
"I have heard stories of participants telling their support people about us, our program, and what they've learned."
As a result, there have been increased numbers of people making and keeping their appointments, and attending Healthy Heart activities held in the community, such as nature walks, traditional weaving, and community gardening.
"Their participation and enthusiastic attitudes show they believe in the Healthy Heart Program. It shows they trust us, and because they trust us, they have ownership in the program. They see the Healthy Heart Program as their program."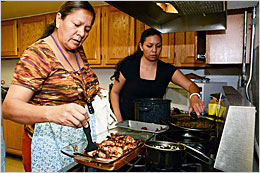 Woman glazing baked pack rat.
More members of the San Carlos Apache Tribe are trying traditional foods like cholla (cactus) buds, acorn dumplings, pack rat, and quail -- thanks to the Traditional Western Apache Diet Program. The White Mountain Tribe, Tonto Apache Tribe, and Yavapai-Apache Nation are also participating in the program. The goal of the program is to analyze the pre-reservation Western Apache diet. It is a first step in encouraging tribal members to return to a more traditional diet.
To expand awareness and support, three San Carlos Apache Tribal staff prepared a special lunch for Tribal Chairman Terry Rambler and his staff. "We want to get more support from the Tribe by reconnecting people to traditional foods and Mother Earth. This food heals your body," explained Department of Forest Resources Staff Twila Cassadore.
Twila and Health Educator Daylene Anderson created the menu of pico de gallo with cholla buds, spinach salad with currants and pine nuts, acorn dumpling and elk soup, quinoa topped with baked quail, baked pack rat glazed with agave, mini whole wheat fry bread topped with zucchini, corn, and tepary beans, blue corn crepes stuffed with cream cheese and prickly pear, and fresh squeezed lemonade with chia seeds. Most dishes represented what Western Apaches ate before reservations were created. No sugar, salt, or white flour was used.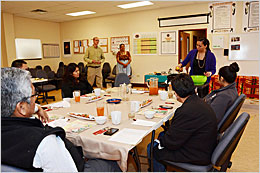 People sitting at lunch table.
Twila had been gathering seeds for weeks. Twila and her family members had also spent days hunting pack rat and quail. Twila and Daylene were up early that day to prepare the meal.
When Chairman Rambler and four staff entered the room and sat down, Twila and Daylene brought out the first course, pico de gallo topped with cholla buds, served with blue corn chips. The guests started sampling right away. Immediately, the conversation focused on the past. "My grandma used to catch catfish, huge ones. We used to wrestle them out of the water," recalled Chairman Rambler.
While guests sampled additional dishes, Seth Pilsk, Department of Forest Resources Staff, talked about the program. "We want to get the Apache diet back to the community. Not because it's healthy, but because it's super-healthy."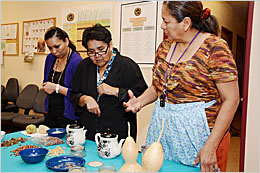 Three women looking at traditional food.
He explained that the program has identified over 200 harvestable foods on San Carlos Apache land. A nutritionist is analyzing the diet, and discovering that it is indeed super-healthy – high in healthy fats, and low in saturated fat and cholesterol. "We have also found that it is very high in fiber," said Seth.
After the meal, guests gathered around a table displaying seeds, nuts, flours, and celery root. Guest Kevin Cassadore said, "We are learning our culture, the roots of who we are. We can say, 'We are Natives and this is the kind of food we eat.'"
In the weeks following the lunch, Traditional Western Apache Diet Program staff began weekend outings to teach tribal members how to identify and gather traditional foods.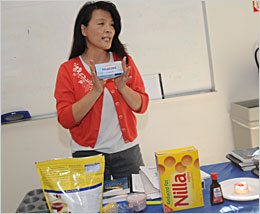 Jennie Quon demonstrated how to make a lower-calorie cheesecake.
In early November 2012, the 16-week SDPI-funded Diabetes Prevention Program at the Indian Health Center of Santa Clara Valley located in San Jose, California, came to an end. Two classes totaling nearly 30 people were graduating the program just in time to put their new knowledge and skills to work: Thanksgiving, Christmas and New Year's celebrations were fast approaching. Could the groups stay motivated through the holidays, the months to follow and for the rest of their lives?
How to keep eating healthy and being physically active were the topics of these final classes. Dietitian Jennie Quon began the classes by showcasing accomplishments. She asked each participant how their lives had changed since attending the first classes in July. Answers included: "I read food labels and stopped drinking five pops a day." "I park further away from work, and I walk during my breaks." "I am using a manual wheelchair instead of a motorized one." "I say 'yes' to my children whenever they ask me to go out and play with them." (This man lost over 15 pounds!)
To stay motivated, Jennie suggested that participants call the staff, call each other, read magazines and inspirational materials, keep daily food and exercise journals, and not get discouraged when there are setbacks. "You have come a long way," she said. "This is not the end of your healthy journey. It's just the start of your life-long healthy lifestyle."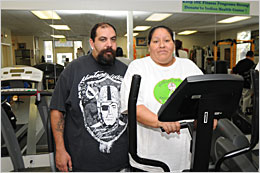 Simon and Andrea Morales (Chickasaw) developed the habit of walking.
When Andrea Morales (Chickasaw) and her husband, Simon Morales, started attending the Diabetes Prevention (DP) Program at the Indian Health Center of Santa Clara Valley in July 2012, they both had pre-diabetes and high blood pressure, which run in their families. Their reasons for joining were to learn to eat better, exercise more, lose weight and be good role models for their children and grandchildren.
Both changed habits during the 16-week DP Program. "I used to eat big portions," said Simon. Now he eats regular-sized portions with more fruits and vegetables.
Andrea added, "We walk a lot. The grandkids say it's time to go for a walk, so we walk with them and our dogs around the park at least every other day."
Both have lost weight: Simon has lost 20 pounds, and Andrea has lost 10.
During the final DP Program class in November, both were confident they will continue with their new habits through the holiday season. The two methods they most likely will use to stay on track are motivating each other and talking to the Center's staff. "We push each other, and the staff are great," said Andrea.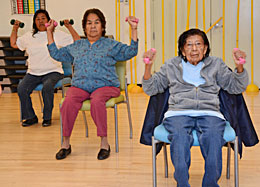 Three senior women lifting light weights.
There's a senior (age 55 and older) fitness movement going on at the Pascua Yaqui Tribe near Tucson, Arizona. It's spreading to more seniors and inspiring countless adults, children, grandchildren, and great-grandchildren. The instigators are unstoppable because they are seniors -- seniors who have been energized and know firsthand the benefits of being fit.
Senior fitness and dance instructor Nancy Duran, LPN, has witnessed this explosion of senior fitness. "We started a dance class five years ago." At first there were six regular dancers. "Now we have over twenty."
The seniors dance their traditional and hip hop styles. In 2013 they came in first place for their "Gangnam Style" dance in the Annual Indian Council of Aging Conference Aerobic Competition.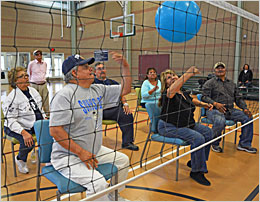 Group of seniors sitting in chairs and playing volleyball.
They also participate in weekly fitness classes at the Liogue Senior Center and diabetes program fitness classes and volleyball games at the tribal wellness center. The volleyball games are just like regular games, but seniors are required to remain seated. Some games are so heated that seniors forget that one rule and fly out of their seats, losing the point.
Many of the seniors participate in all of the senior physical activities. "We're trying to encourage other seniors. We want to show them that we can still move. If we just sit, we start having pain. When we exercise, we feel better. My circulation, my heart, my moods, everything feels better," explains Maria Bustamante.
The seniors know they are community role models and can influence younger people to view aging in a positive light. "We're doing this to show people who will be seniors in a couple of years that it's important to keep moving," says Maria (Bustamante).
"I'm doing this for my grandchildren, so they know that when they get older, they can still be active," adds Maria Molina.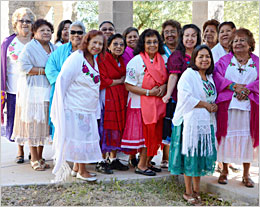 Group of senior women in traditional dress.
Maria Flores has benefited from the fitness classes. She has heart disease and diabetes in her family. She started joining the fitness classes, choosing healthier food, and eating less food. "I do chair volleyball, dancing, and the fitness classes. I've made dramatic changes. Before I didn't care. I was depressed. Now I know it's up to me to feel better." Maria has lost 35 pounds.
Maria (Flores) is 62 years old and has 14 grandchildren and 4 great-grandchildren. Many of them come to see her when she dances for the Tutulis (Beautiful) dancers. Like other seniors, Maria hopes younger family and community members are seeing what being a senior can mean: being active, fit, and happy.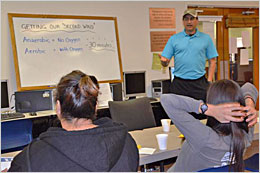 Tucson Indian Center class about benefits of exercise.
Every Wednesday morning a group of Native people from a variety of tribes gathers at the Tucson Indian Center for camaraderie, a healthy snack, diabetes prevention information, and a walk. This is not a round-the-block stroll: It's a brisk walk of over two miles.
On one Wednesday morning, Diabetes Prevention Program Coordinator Arcenio Trujillo sets out coffee, yogurt and bananas, and writes "Getting Our Second Wind" in big letters on the white board. Clients enter this downtown Tucson building, help themselves to snacks and coffee, and get caught up with friends.
This is the Tucson Indian Center Walking Group. They have been meeting for about two years. When the group first started, there was one walker. Now there are up to 20 walkers.
Erolinda Ramon, Tohono O'odham Nation, has been walking with the group for several months. "It's friendly. Arcenio is a good speaker," she explains.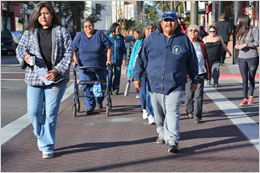 Native group walking in downtown Tucson.
Today Arcenio is using long words: anaerobic and aerobic. He writes the words on the white board. Before anyone's eyes can gloss over, he explains that when you keep your heart rate up for over 30 minutes, the body enters an aerobic, fat burning state. When your body switches from anaerobic to aerobic, it is getting its second wind.
"It's like your body goes from easy listening to heavy metal music. It's like it runs out of quick fuel, but doesn't panic because there is stored fat to burn. It's like your body starts burning the delicious bacon!" says Arcenio.
The clients can't help but envision their bacon being burned. They laugh. They know they will be walking for over an hour, at a quick pace.
The start of the walk is a warm up. The group waits at several corners for stoplights, then picks up the pace. They turn left, and start climbing steps. Hearts are pumping strongly as they cross the Snake Bridge, walk through the mouth of the snake, then out the tail. There's an automatic rattling sound as the walkers exit the tail.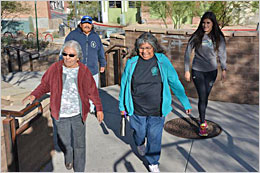 Native walkers climbing steps.
The second bridge is called the Basket Bridge, beautifully made to look woven. The group zips across it, does a ritualized turn around, and heads back. At this point, they have been walking over 30 minutes. Each walker can visualize the bacon melting away.
Back at the Tucson Indian Center, Isabella Enriquez, Tohono O'odham Nation, checks her pedometer. "It says 5,208 steps! Two point eight miles," she says. Arcenio explains that, while walking this distance is good, all walking will help prevent and manage diabetes. "Park farther away. Walk fast to the store. Get out of the bus one stop before your stop and walk the rest," he suggests.
Erolinda listens to Arcenio. "He cares about the way we live, and wants us to improve our health. I've learned a lot from him."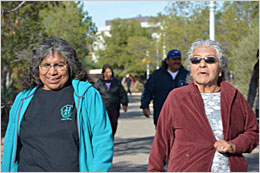 Two Tucson Indian Center women walkers.
Native people living in and near Tucson, Arizona, are finding a way to become fit, or keep their fitness regimens going strong. Once a week they can join a walking group held at the Tucson Indian Center in downtown Tucson.
Both Isabella Enriquez, Tohono O'odham Nation, and Erolinda Ramon, Tohono O'odham Nation, started regular walking about two years ago. Isabella was in the Center's Lifestyle Balance class when she joined the walking group. For a while she was the only client in the group. She walked the over 2-mile course with the Diabetes Prevention Program Coordinator, Arcenio Trujillo.
"She would show up even when it was freezing cold!" recalls Arcenio.
Erolinda started walking when she was in the SDPI Healthy Heart Program at the San Xavier Health Clinic. She has diabetes, and, at that time, had severe pain in her feet. "I've had a hard time controlling my diabetes. But the walking helps me," she says.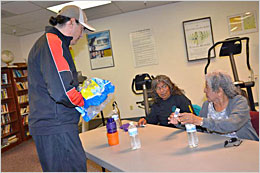 Tucson Indian Center staff and clients.
Erolinda has lost weight, no longer needs insulin shots, and eats more fruits and vegetables and fewer sweets. "My blood sugar has come down and I've been feeling real good," she says.
Isabella walks up to seven miles a day. She has become stronger and improved her balance. She has lost weight, and eats more fruits and vegetables and less high-fat food. She cut back on soda and drinks more water.
These lifestyle changes have helped Isabella feel better. "At one time, I couldn't even move. But now I don't feel pain so much. I don't feel depressed. I don't have diabetes. I'm 67, and feel like I'm getting younger!"
Every week Isabella and Erolinda join the Center's walking group, which has grown from one participant to about 20. The two women have made regular walking a part of their lives.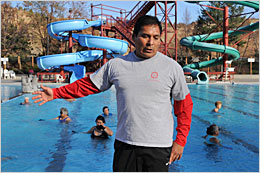 Edmund Francis teaching water aerobics.
Montell Elliott, the Diabetes Prevention Program Coordinator at the Warm Springs Tribe located in Central Oregon, says participants are in the "call to action" phase of diabetes prevention and management. The tribe has both an SDPI Diabetes Prevention (DP) program and a Community-Directed program, which makes it possible to offer many activities aimed at helping community members increase physical activity and lose weight. The reason the offerings are full of participants is because the grants have been able to build on initial stages. "Native communities have seen grant programs come and go," explains Montell, "but the SDPI programs have been here for nearly 12 years."
She says the first years were spent addressing the" fatalistic" belief many of her clients had about diabetes. "Many believed that they would automatically get diabetes, that there was nothing they could do," recalls Montell. For several years, program activities focused on teaching that diabetes could be prevented or delayed. Montell says the program staff is still teaching the Lifestyle Balance 16-week diabetes prevention curriculum, and now participants are believing the information and acting on it.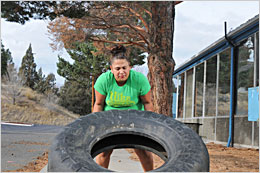 Christel Leonard in the Functional Fitness class.
The SDPI program staff is ready for the "action phase" with a number of weight loss and physical activity classes including:
Lifestyle Water Aerobics which is led by Edmund Francis and Jeri Kollen and held in a huge, hot-spring-fed pool.
Diabetes Prevention that helps participants stay motivated and deal with setbacks to healthy lifestyle changes, develop and monitor weight loss plans and sample healthy snacks like low-fat cheese and bean burritos.
Functional Fitness that is super-tough and motivates participants to keep heart rates up by exercising for one minute at multiple "stations" including a semi-tire-flipping station.
Senior Fitness where seniors ages into their 90s do low-impact exercises involving cardio, strength training and Zumba®.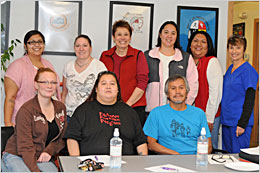 Diabetes Prevention Program Class.
Weight loss results are coming in. Many DP program participants have lost weight and gained muscle. Edmund Francis, who participated in the DP program in 2007, comes from a family in which both parents have histories of cardiovascular disease and diabetes. Because of what Edmund learned in the DP program, he has limited processed foods and eliminated the consumption of alcohol. He does not have diabetes. Now Edmund is the Tribal Wellness Coordinator.
Another community member, Anna Hurtado (Warm Springs), attends water aerobics and a fitness class. She has diabetes and has recently lost about 15 pounds. She says her legs hurt sometimes, but it's a good hurt. "They get sore because I'm exercising them," she says. Anna is 74 years old.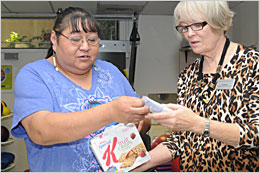 Two women at the Denver Indian Health and Family Services discussing how to lose weight and practice diabetes self care.
It's a typical morning for Allene Stanley (Cheyenne River Sioux). By ten AM she has walked over 1400 steps -- some of them up a hill to get more of an aerobic workout. She has eaten a small orange instead of drinking a glass of orange juice. She has not even thought of having a "Diet Dew" because all soda is gone from her house. Just seven weeks ago, Allene started her days differently. Her eating habits weren't as good and daily exercise was not a habit. But she has been attending the Denver Indian Health and Family Services (DIHFS) program Fork n' Road once a week for almost two months and has changed many of her eating and exercise habits.
Diabetes Program Manager Kathy Canclini, MN, RN, CDE, and other staff of this urban clinic started the program, funded by the Special Diabetes Program for Indians (SDPI) Community Directed Grant Program, in January 2010. The clever name, Fork n' Road, reflects the program's focus of making better lifestyle choices by improving eating habits (fork) and increasing exercise (road) to lose weight and prevent or manage diabetes.
"We had a 91 percent obesity rate," explains Kathy. "The Best Practice we chose was Weight Management. We were inspired by the Best Practice and we used the Division of Diabetes Treatment and Prevention's Balancing Your Life and Diabetes curriculum."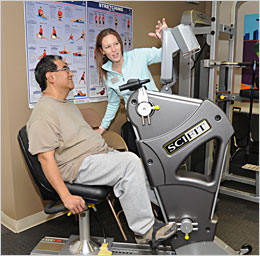 DIHFS staff member showing a client how to use exercise equipment.
Like most urban Indian clinics DIHFS has a client population with characteristics common to Natives living in big cities, diversity being the most prominent. "I would guess that 80 to 90 percent of tribes are represented among our clients, from Native Hawaiians, to Alaska Natives, to members of tribes in Maine" says Kathy. Many of the center's clients do not have health insurance. Some are travelling and some live in Denver for a while, then move.
DIHFS staff view these challenges as positives. "Our clients appreciate meeting other Native people. They appreciate how we sincerely care for them, how we slow things down, taking time to provide many hours of diabetes education classes, as compared to two hours at non-Indian hospitals or clinics. They appreciate how we honor and respect their values."
The foremost value among their clients is family. Diabetes Prevention Specialist Kristen Curcija, MPH, says, as a non-Indian, she has learned a lot about the values of her Native clients. "I have learned how much they value their families and how our teaching has a ripple effect throughout their families. Everyone is so open and sharing. We hear their heartbreaking stories of how diabetes has impacted their cousins, their aunties. After listening, I started to understand the enormity of the love and care our clients have for each other."
In addition to learning about values, staff have learned what works to put on a successful weight loss program at their urban Indian clinic. Here are some of their tips: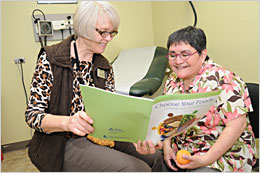 DIHFS staff member reviewing Choose Your Foods: Exchange Lists for Diabetes with a client.
Use a team approach involving all staff from the clinic and the diabetes program. "The clinic refers patients to us, and we refer clients to the clinic" says Kathy. "We establish a relationship with the clinic patients and they are more likely to come to our classes."
Develop a program name, logo. Think creatively to name your program and develop your logo – have fun with it! Use the logo on materials to foster an identity for your program. You are welcome to borrow the name and logo Fork n' Road if it will help you market your program.
Consider creating a contract for staff and clients to sign at start of classes. The DIHFS Fork n' Road Program Behavior Contract includes the statement: I promise to enjoy myself during class.
Include interactive activities. While waiting for other clients to arrive participants play catch with an inflated "Weight Loss Toss-Up Ball", which has nutrition and exercise questions printed on it. Participants are encouraged to provide the answers.
Repetition helps. Staff never assume clients know information about nutrition, like how to read labels. They teach, then teach again as needed -- repetition works!
Expect and celebrate the small changes clients make, like switching from whole milk to skim milk, being able to decrease medications (as ordered by the provider) due to weight loss, wearing smaller-sized clothing, walking around a park and eating more fruits and vegetables. "We are delighted when our clients make eating habit changes and even more excited when we see them smiling, laughing, and feeling better about themselves" says Lorraine Gill, RD, MA, CDE.
Be delighted by your clients' huge successes, like dramatic drops in A1C, LDLs and lower BMIs. Some DIHFS clients' A1Cs have dropped from 14 percent to under 7 percent!
Evaluate to show clients' successes. During the first and last classes, clients complete a form developed by the DIHFS Diabetes Program called "Assessment and Evaluation of Healthy Behaviors". Participants give themselves a rating from "rarely" to "regularly" (1-5 Likert scale) regarding nutrition and exercise habits. For Best Practice outcome grant reporting, staff compare before and after class scores. In the last class staff use the SDPI In Review, which asks participants to assess their current habits to show them how much progress they have made and what changes they need to focus on in the future.
Conduct follow-up assessments. At six and 12 months after the program, clients are re-evaluated for weight, BMI, body measurements and Healthy Behavior Ratings. Again, the team celebrates and/or re-motivates the participant with ongoing support.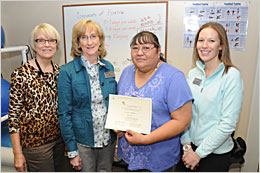 DIHFS staff members posing with a successful Fork n' Road Weight Management Program client.
When clients finish the Fork n' Road Program they are presented with a certificate of graduation and are then eligible to join the Crossroads Program, which focuses on the rest of the Diabetes Self-Management Education. Crossroads is a program primarily offered to clients with diabetes, although all are welcome to attend. Staff chose not to do separate classes for those with diabetes and those without diabetes because nutrition, exercise and behavior change education is applicable to all.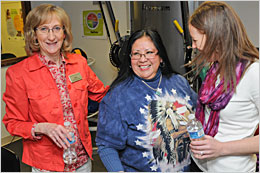 DIHFS staff members talking to a client.
During the first moments of the Fork n' Road diabetes education class at the Denver Indian Health and Family Services (DIHFS) clinic, Charlene Irani appeared to not be a happy camper. Her arms were crossed as if she was prepared for a preaching. "I was afraid and emotional. I did not want to be there. I thought, 'If you're going to tell me what to do, then I'm not listening.' "
Fast forward seven weeks to the last day of the once-a-week classes and Charlene is laughing and telling stories. She says the classes were not what she expected. "Talking to staff was like talking to a friend," she recalls. "We would tell a story and then Kathy (Canclini, Diabetes Program Manager) would tell a story and we could all relate. The staff didn't talk down to us. That's why we were able to share."
After the first several minutes of class, arms are uncrossed, smiles start appearing, more voices contribute. There are people from the Navajo, Seminole, Sioux and other tribes. It quickly becomes obvious that this diabetes nutrition and exercise class is not like the 2-hour program of a nearby hospital. It caters to the values and needs of Native Americans from diverse tribes, those who have insurance and those who don't; and it provides information in a way Native clients appreciate – not rushed but applicable to body, mind, spirit, emotion and family.
Meet three people who participated in the DIHFS Fork n' Road Program: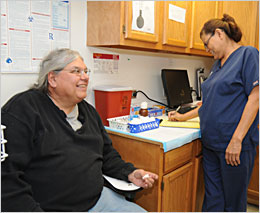 DIHFS staff member evaluating a client.
Robin Colombe (Rosebud Sioux)
"I grew up in Nebraska and came to Denver 40 years ago when I was 22. I found out I had pre-diabetes about five or six years ago. I had insurance at the time and was told that my blood sugar was high. But I was given no education. Soon after that I was diagnosed with diabetes.
"I lost my insurance and came to DIHFS. They are the ones who educated me about how to manage diabetes. After the first few classes I learned what I had to do to get my blood sugar under control. I learned how to read labels and the correct portion sizes. When I go out to eat I learned that I should eat half of what I order. I do that now.
"My habits have changed. I don't drink pop. I drink water, milk, or low-calorie drinks. I am trying to eat more vegetables. I eat more low-salt foods to help my blood pressure and my A1C level has dropped."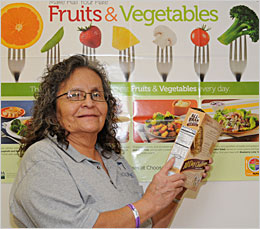 DIHFS client reading the nutrition facts of All-Bran Crackers Multi-Grain.
Geraldine Thomas (Navajo)
"I grew up in Gallup, New Mexico, and came to Denver in 1989. I don't have diabetes, but it's in my family. My A1C level was high and I had pre-diabetes. I was overweight and wanted to lose weight; I didn't want to get diabetes. I thought, "I refuse to accept diabetes. I am going to do something about it.' I was in the Fork n' Road Program two years ago.
"At first, I was embarrassed that I was a person who might get diabetes and lose limbs. I didn't want to talk about diabetes. But the staff helped me. Kathy had compassion in her heart for Native people. She never put anyone down. And Kristen taught us exercises we could do at home, without special equipment or extra expense. They both showed us that diabetes could be avoided or managed and we could live long, healthy lives.
"I learned about nutrition and avoiding diabetes – how to read food labels, the correct portion sizes, how to add more fruits and vegetables to your diet. Pound by pound, weight started coming off. I've lost 16 pounds in two years! I used to wear size 16 and now I wear size 12! My A1C went from 6.5 to 5.9.
"Now I share with my children and grandchildren. I talk about the importance of knowing your A1C level, about how to avoid diabetes and what symptoms to watch for. I estimate I have talked to 15 friends and family members about how to stay healthy. God has helped me get on this healthy, positive path and I hope I am passing it on."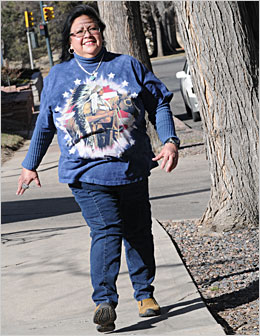 DIHFS client taking a walk.
Charlene Irani (Seminole/Kiowa)
"I grew up in Oklahoma and moved here in 1985. My mother and brother died from diabetes complications and my sister has diabetes. When I found out I had it, I cried. I didn't want my life to be like other family members who had diabetes. But I didn't know what to expect or what to do. I wanted to learn everything I could so I could help myself be healthy with diabetes.
"In the classes, I learned to eat regular-sized portions. I learned how much sugar is in pop and fruit juice, so I stopped drinking them. I stopped eating fried foods. Now I bake and boil meat and chicken. I eat less peas and rice, and more broccoli and spinach.
"I have lost 35 pounds! I walk three times a week for about one and a half miles, and I can breathe easily! And, I'm getting better sleep. I feel more rested.
"I'm trying to share what I've learned. I've told my friends' grandchildren, 'Look! My lunch is colorful. It has an apple in it and no pop.' I'm happy that the grandchildren stopped drinking pop.
"When I was 43, I was diagnosed with an aneurism and was told I didn't have long to live. Now I'm 54 and I feel great. God gave me this extra time, time that I wasn't expecting I would have. I want to give back. I am a volunteer for Native cancer research. I also volunteer to help get water filters to homes on the Pine Ridge Reservation. I want to live a long time so I can continue to help others."