The Indian Health Service is working closely with our tribal partners to coordinate a comprehensive public health response to both COVID-19 and mpox.
Diabetes Healthy Heart Project Toolkit
Module 4: Build a Sustainable Program
Purpose To provide strategies and lessons learned from SDPI Healthy Heart (HH) grant programs on building a strong team and sustaining a cardiovascular disease risk reduction program for the long term.
Overview Planning, implementing, and evaluating your HH program requires a team that maximizes the skills and talents of individual members. A strong team works together to accomplish shared goals and is the foundation for building a sustainable program.
Sustainability is about maintaining and enhancing program services for the long term. It includes elements such as establishing partnerships with other agencies and programs, identifying sufficient funding sources, and having the program perceived as a valuable community resource.
This module contains strategies and ideas to consider for building a strong team and developing a sustainability action plan.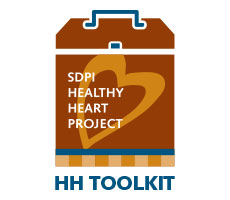 Module 4: Build a Sustainable Program
---
Keys to Success
Communication is the foundation of a strong team and it has been shown that successful teams are ones that communicate well. Another important component is hiring qualified personnel who understand the community and the Tribe(s) they serve.
In a strong team, program leadership:
Ensures development of the synergy needed for teams to be productive
Fosters and supports cooperation, innovation, diversity, and accountability
Clearly defines and assigns roles and responsibilities according to staff skills, interests, and talents
Encourages staff to be flexible in roles and duties
Provides guidance for the team to work together effectively while modeling the collaborative teamwork and communication expected of team members
Sets professional conduct and communication standards consistent with the mission and vision of the team and the organization
Sets rules and expectations of the team
Empowers team members to meet or exceed their performance goals
Gives regular feedback to staff
Celebrates successes
In a strong team, team members:
Have respect for each other
Have shared values
Have a common goal and vision
Understand each other's strengths and weaknesses
Understand each other's roles
Communicate clearly and openly
Encourage diversity
Enjoy working together
Find solutions for issues as they arise
It's important to remember that a strong program begins with a strong and cohesive team. Your team is your most valued asset. When there is a positive team spirit, it will be reflected in each action step you take. Celebrate your team's achievements on a regular basis. Continuously work at building a strong team, and whenever possible, mix work with fun.
Case Study: Ready, Set, Go Team!
Whiteriver Healthy Heart Project
Whiteriver, AZ
The definition of "team" extends well beyond the Whiteriver Healthy Heart Project to include the Whiteriver Service Unit and primary care providers who are all connected by having easy access to patient information via the electronic health record (EHR). "It's almost like the program doesn't stop with our team. The primary care providers follow along with the HH patients' goals, so the goals get reinforced again when meeting with providers," said Troy Johnson, HH Nurse Practitioner. As a result of having the EHR and other processes already in place, the program has seen an increase in patient referrals.
This high-powered team enjoys watching patients teach and learn from each other and share their stories of success with the community. Elizabeth Dickson, Case Manager, explained, "When they start feeling good and see it working, they want to bring in those they love."
The HH team also recognizes that the many years of diabetes awareness and education messages in the Whiteriver community helped to lay the foundation for their success. "It's not that what we're teaching is new, but it's now finally sinking in and that's why they're ready to make a change," said Elizabeth.
The Whiteriver community is fortunate to have this strong team to provide support for people with diabetes so that they feel better, stay strong, and reduce their risk of heart problems.
Assess employee competencies and arrange for additional training as needed.

Examples of training areas include:

How to work with patients to set goals and action plans, assess patient confidence, and provide feedback and follow-up (i.e., motivational interviewing)
Treatment and management of cardiovascular disease and/or diabetes (e.g., nutrition, physical activity, medication, self-management support)
How to document using electronic health record systems

Support staff training to strengthen skills and competencies.

Take advantage of numerous education resources available at low or no cost.

Partner with clinic staff who may be able to provide training services to your program (e.g., dietitian, pharmacist).
Integrate the HH program

Seek support from leaders at your organization, including the Executive Director, Health Director, Medical Director, and Providers.
Develop policies and procedures that can be adopted in your health system.
Partner with the SDPI Community-Directed Diabetes Program, if available, and other health promotion and disease prevention programs at your organization to share resources.

Seek local support

Showcase your program and program success at community and Tribal meetings.
Establish a coalition with community members and health professionals that focuses on heart health or CVD risk reduction.
Engage Tribal leadership to serve as champions for the program to help with program visibility and sustainability.

Develop partnerships

Local Universities – Invite students enrolled in public health, nursing, or pharmacy schools to assist with program activities (e.g., screenings, recruitment events) or to participate in program internships.
Community and Service Organizations – Co-sponsor events with groups to maximize and leverage resources.
Local Recreation Centers – Work with fitness facilities to develop and implement fitness training programs for participants. Weekly sessions help keep participants engaged and working toward goals.
National Organizations – Partner with recognized national organizations to receive materials and updates on their national campaigns (e.g., American Heart Association)
Media Outlets – Work with media outlets and social media channels to publicize your program's success stories. The more widely known the program is, the greater the chance for partnerships.
Case Study: Growing Gardens with Determination, Collaboration, and Lots of Heart!
Blackfeet Healthy Heart Project
Browning, MT
The Blackfeet Healthy Heart Project started their first garden project in 2006 with 12 gardens. "Nobody knew how to take care of a garden anymore," said Ken Walter, Case Manager. "They knew how to take care of horses and cows, but not how to care for a garden." In spite of challenges, they were still determined to be successful and decided to work with the Blackfeet Community College greenhouse. The Garden Project thrived to over 30 gardens!
The college greenhouse started out with a focus on Native plants and, in collaboration with the Blackfeet HH Project, has revised its focus to include healthy lifestyles. "We did a lot of the tilling and they purchased the soil," said Ken. "We even contracted with a student from the University of Montana to conduct cooking and canning classes."
Because of the success of the Garden Project, the community college greenhouse staff writes a grant every year to support the Garden Project and continues to collaborate with the Blackfeet HH Project. "But these gardens produce more than healthy food. The fruits of their labor are also self-confidence, self-esteem, and excitement!"
The staff was excited to see family participation, including children, working in their gardens, and was happy to hear many positive comments throughout the community. Whenever the staff is in town, they'll see participants who want to share stories of the vegetables the gardens have produced. "They are so happy to tell us about what they've grown or how they prepared the vegetables," stated Ken.
Sustainability is best achieved through program development that includes:
A long-term focus
Ongoing program evaluation
Policies that are followed consistently
Reliable data
Interest and support from Tribal leadership and the local community
Develop a sustainability action plan:
Integrate sustainability planning at the beginning of your program.
Conduct an assessment of your program's capacity.
Keep sustainability planning ongoing and interactive.
Create a solid base for program funding and support by considering the following:

Financial support from local Tribe(s)
Grants from other sources (e.g., foundations, government, private funding)
Billing for services, when possible
Volunteers, donations, in-kind
Fundraising
Resources to assist in assessment and planning:
Community Toolbox

– This public health toolbox provides numerous resources for sustainability planning and additional tools and tips for those working on building healthier communities.
Program Sustainability Assessment Tool

– This tool is designed to measure program capacity for sustainability by evaluating political support, funding stability, partnerships, organizational capacity, program evaluation, program adaptation, communications, and strategic plans.
---
Sustainability requires stakeholders committed to owning and developing partnerships with us to ensure that the work needed to prevent diabetes and its complications continues. Together, we can make a difference.
Lessons Learned