The Indian Health Service continues to work closely with our tribal partners to coordinate a comprehensive public health response to COVID-19. Read the latest info.
Patients & Visitors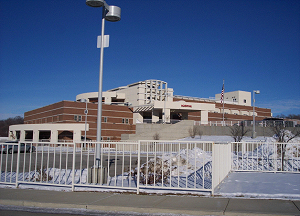 The Winnebago Hospital is a busy place for patients, relatives and friends so in this section you'll find details on how to get here, and what your Patient Rights and Responsibilities are.
If you need any further help before, during or after your visit, our Patient Advocate (PA) is here to help. Whether you are a patient or visitor, our PA offers on-the-spot help and will be able to guide you, your family and friends through the different services available within the Winnebago Hospital.
Contact Information:
Georgia Gomez - Patient Advocate
Winnebago Hospital
HH 77/75
Winnebago, NE 68071
402-878-2231 x2014

---
Patients Rights and Responsibilities
The Four Components of Quality Patient Care
Quality Assurance - focus on the patients direct hands on care. Programs, policies, procedures and practices being followed allow our staff to perform their duties at the highest standards possible.
Risk Management - focus on the potential/real risk and prevents negative actions. Examining programs, policies, procedures or practices to ensure our patients, staff, contractors or finances are not at risk for any negative outcomes.
Compliance - focus on following the state and/or federal regulations in all our practices. Following set policies and procedures, which reflect the regulations that require us to provide proof of our compliance.
Performance Improvement - focus on how well we provide care and uphold the standards/ regulations set forth by law. Providing quality of care as a team, to our patients. If one team member fails, the team loses and most of all the patient feels the effect immediately. We are only as strong as our weakest link.
Patients Rights and Responsibilities [PDF - 32 KB]
LCDR Darla McCloskey,
IOP/Risk Management Director
Phone: (402) 878-2231 Ext. 2009
---
Directions
If you have never been to Winnebago Nebraska before, it can get a little confusing. Never fear, on this page we have provided directions from Sioux City, IA. If you need further assistance please feel free to contact the Winnebago Hospital at 402-878-2231.
Directions from Sioux City, Iowa are as follows:
From I-29 take Exit 144B
Take exit 144B to merge onto US-20 W/US-75 S toward S Sioux City/I-129 W Entering Nebraska
Continue onto I-129 W.
Take exit 1A to merge onto US-75 S/US-77 S toward Fair Grounds
---
Public Transportation
The Winnebago Indian Health Service Hospital Transportation Department provides a shuttle service from the Four Directions Outreach Center at 614 Water Street in Sioux City, Iowa, to the Omaha/Winnebago Service Unit, and return.
The Service will run Monday thru Friday of each week at the following scheduled times:
Return Times
10:20 am
12:20 pm
2:20 pm
Other return times from Winnebago back to the Four Directions Outreach Center are 3:30, 4:30, and 5:30 if necessary.
We encourage all those using the Shuttle Service to schedule their Appointments in advance. Appointments can be made by calling the Hospital's Patient Registration Department at the following phone number: (402) 878-2440, extensions 3950 or 3951. We also have a Van to accommodate handi-cap patients. Please let patient registration know if you need this service, so we can schedule it at the proper pickup time.
Action Taxi in Sioux City will be providing transportation to and from the First Nations Outreach Center. Please contact them at least "One Hour in Advance" to get to your scheduled pickup time at the Outreach Center.
Transportation Vans will leave on time as scheduled and will not wait for late passengers. If you miss the van, you will have to reschedule your appointment for a later time or be seen at a later date.
Should you have any questions regarding the transportation services, please contact Carl A. Free, Transportation Supervisor, at (402) 878-2440, ext:1601.
*We also provide handicap services with 24 hours advanced notice.
*Shuttle services are for medical appointments only. Failure to abide by the medical service will result in your suspension of shuttle service use.
Back To Top