The Indian Health Service continues to work closely with our tribal partners to coordinate a comprehensive public health response to COVID-19. Read the latest info.
Community Health Representatives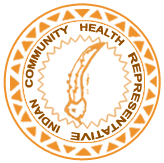 CHR's are here to assist you with health related concerns and your overall well being.
Top Ten Healthcare List
Case Finding and Screening - Provide early detection of health conditions requiring attention.
Care Management - collaborate with health providers to deliver holistic services.
Emergency Care/Ambulance - CHR and EMT emergency care 24/7.
Health Education - Provide awareness, motivation for prevention and curative care.
Monitor Patient - provide community outreach such as blood pressure and blood glucose checks and follow-up health care.
Patient Care - provide treatment and instructions to scheduled home visits for patients/clients.
Intrepret/Translate - clarify medical treatment and or instructions.
Homemaker Services - assist the disabled/elderly with home chores.
Healthcare Transportation - provide transportation to patient/client to receive health-related issues.
Other Patient Services - assisting and support for other services, funerals, clinics, and community events.
Environmental - identify health or safety hazards in a patient's environment.
Emergency Phone Numbers:
CHR/EMS Office 402-878-2277
PHS Hospital 402-878-2231
Police Department 402-878-2245
Fire Department 402-878-2222
CHR/EMT Personnel
Dorothy L. Houghton, CHR?EMS Coordinator, NREMT-B
Cindy Scott-Aldrich, EMS Director, NREMT-Paramedic
Bobbie Jo Smith, CHR/EMS, Office Associate
Nicole Redhorn, MCH/Pediatric Specialist, EMT
Stephanie Parks, Adult Diabetes Specialist, EMT-B
Stuart Bowsher, Sr, Generalist, NREMT-B
Cari Hinrickson, CHR/ENMT, Youth Diabetes/Audiology Specialist
After Hours EMS Staff
Mona Zuffante, NREMT-B
Harold Cleveland, Jr., EMS Driver
Cheryl Ickler, NREMT-B
Address:
P.O. Box 752
Highway 75/77
Winnebago, NE 68071