The Indian Health Service continues to work closely with our tribal partners to coordinate a comprehensive public health response to COVID-19. Read the latest info.
Dental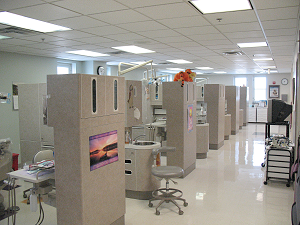 Our Practice Philosophy:
"To provide a standard of care that creates optimal oral health for each individual within a comfortable and pleasant environment so that each visit is a positive experience."
Your First Visit
Welcome to our practice. We are looking forward to meeting you and caring for your treatment needs. We begin with a thorough oral examination along with any necessary x-rays. At this initial examination appointment, we will try to give you a general sense as to the nature of your condition and our ideas as to how we can help you. Upon completion of the examination, an appointment will be scheduled to begin the treatment best suited to your needs. Our staff will be available to discuss our services and financial arrangements if lab services are needed. Our goal is to provide comprehensive treatment in a comfortable, safe and caring environment.
Services Offered:
Restorative Dentistry (Tooth Repair)
Periodontal Therapy (Gum Treatment)
Endodontics (Root Canal)
Oral Surgery (Extractions)
Pediatric Dentistry
Orthodontics (Braces)
Cosmetic Dentistry
Contact Information:
Winnebago Dental Clinic
Highway 75/77
P.O. Box 706
Winnebago, NE 68071
Phone: 402-878-2465