The Indian Health Service continues to work closely with our tribal partners to coordinate a comprehensive public health response to COVID-19. Read the latest info.
Emergency Room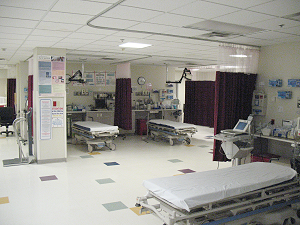 The Winnebago ER Department is staffed around the clock with physician specialists, nurses, and EMS personnel ready for any emergency. The staff works hard to ensure that patients receive lifesaving medical care quickly and effectively.
What to Expect
When you come to our ER, you will sign in to be seen by our triage nurse. The triage nurse will assess the severity of your illness or injury.
If the Triage nurse determines that you need immediate medical care, you may be immediately admitted to a private room in the ER where you will be registered and seen by the ER physician.
Depending on your medical needs, you may be asked to wait in our reception area until a room becomes available in the ER. There are restrooms located near the waiting area.
Tests
Our ER physician may order blood and diagnostic tests. X-ray equipment is located in directly across the hall in our Radiology Department for quick access to diagnostic procedures. Our ER ensures patients receive the best emergency care available.
Treatment
Our ER physicians and registered nurses specialize in emergency medicine. If necessary, a consulting physician specialist may be called. Your ER nurse will continually monitor your care and keep you informed. If you have any questions, please ask.
Discharge
If you are not admitted to the hospital, you will be discharged from the ER with a written plan of care. In some cases, social workers and case managers will be able to help with after care services.
The point of contact for the ER is Deb Saunsoci at 402-878-2440 x2508
For Emergencies call:
Ambulance Service or After hours
878-2978 Ext. 18
Police Department
878-2245
Fire Department
D-878-2222 OR N-878-2245
Hospital Address
Mailing Address
PO Box Highway
Highway 75/77
Winnebago, NE 68071
Physical Address
Highway 75/77
Winnebago, NE 68071
Toll Free: 1-888-913-7651
Mercy Medical Center
1-800-352-3559
712-279-2010
St. Luke's Hospital
1-800-541-2304
712-279-3500
Omaha Cardiology
402-572-3300