The Indian Health Service continues to work closely with our tribal partners to coordinate a comprehensive public health response to COVID-19. Read the latest info.
Mental Health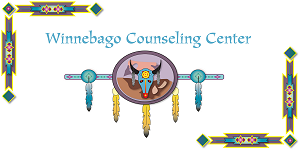 Winnebago Counseling Center (WCC)
WCC's mission is to provide outpatient services that enhance emotional health by strengthening the coping and nurturing capacity of Native American individuals, couples and families.
WCC offers counseling for grief, anxiety, sleep problems, depression, anger management, stress, post-trauma reactions, family problems, interpersonal problems, and many other life situations. Our services are strictly confidential.
DID YOU KNOW? You or your children do not have to be referred by a school or another agency to receive services at Winnebago Counseling Center.
If you are concerned about a friend or famly member, you could volunteer to come with him/her to visit with a therapist about WCC's services.
WCC is a "family friendly" program within the Winnebago Tribal Health Department.
Director:
Marcie Hovland, EdD, LMHP, CPC, LMFT
Therapists:
Neal Oaks, MA, LMHP, CPC
Karen Oaks, MA, LMHP, CPC
Robert Kindschuh, MSE, LIPC, LADC
Consultants:
Adult Psychiatrist - Dr. Patra
Adolescent Psychiatrist - Dr. West
Psychologist - Dr. Preston
Administrative Support:
Rhonda Pitt, Office Manager
Becky Krueger, Grant Assistant
WCC director, therapists, and consultants are licensed in the state of Nebraska to provide mental health services.
For more information please contact Marcie Hovland at 402-878-2231 x1303.