The Indian Health Service continues to work closely with our tribal partners to coordinate a comprehensive public health response to COVID-19. Read the latest info.
Optometry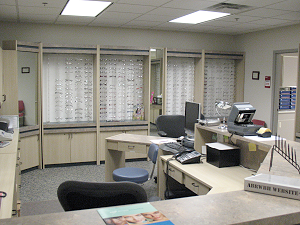 The Winnebago Eye Care clinic services those federally recognized tribal members within the Indian Health Service. Our commitment is to provide the finest full scope vision and eye health care available. Utilizing state-of-the-art instrumentation and techniques, along with the highest quality materials and staff, we serve total eye care needs of people of all ages. In addition, we serve as an eye care educator to every patient, the community at large and other health care professionals.
Vision and Eye Health Testing
There is a big difference in thoroughness of eye care. At the Winnebago Eye Care Clinic, your vision and eye health exam takes over an hour. In addition to vision testing, we test for and treat eye diseases as well as remove foreign bodies on an emergency basis.
Using state-of-the-art ophthalmic equipment your "routine" exam at the Winnebago Eye Care includes the following:
Medical History
Blood Pressure Measurement
Blood Glucose Screening
Eye Muscle coordinaiton testing
Refraction
Tonometry test
Glaucoma and eye pressure tests
Slit-lamp Biomicroscopy
Dilation of your eyes
Test results will be explained to you following your exam, and your diagnosis and treatment recommendations, if any, will be presented. You will always have an opportunity to ask questions.
Contact Information:
P.O. Box C
Highway 75/77
Winnebago, NE 68071
Phone: 402-878-2428
Fax: 402-878-2396
Muriel Cleveland - Eye Care Manager
Nila Doxey - Office Associate/Receptionist
Sharon Tharp O.D. So. Sioux City, NE (Tuesdays)
Physician: Richard Meyer O.D. Norfolk, NE (Wednesdays)
Ryan Palmer O.D. Blair, NE (Thursdays)
"Your Eye Health Is Our Priority"