The Indian Health Service continues to work closely with our tribal partners to coordinate a comprehensive public health response to COVID-19. Read the latest info.
Pharmacy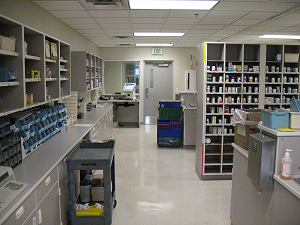 The Pharmacy Program serves as an integral part of a comprehensive community based health care delivery system. Pharmacy services are patient centered and directed toward optimal patient care outcomes, health promotion, and disease prevention. The principal purpose of the pharmacy service is to ensure efficacious, safe, and cost effective medication therapy with appropriate outcomes.
Hours of Operation:
8 AM to 6 PM, Monday through Friday, on call pharmacist 24/7 who also works 8 AM to Noon on weekends and holidays reviewing ER orders, loading Pyxis and reviewing inpatient orders.
Contact Information:
Winnebago PHS Hospital Pharmacy
Highway 75/77
Winnebago, NE 68071
Phone: 402-878-2231 ext. 2040
Current Staffing:
Chief Pharmacist: John Jones
Deputy Chief Pharmacist (Inpatient): Carlos Christenberry
Deputy Chief Pharmacist (Outpatient) : Susan Porter
Pharmacist: vacant
Pharmacist: vacant
Pharmacist: Jeffrey Gildow
Pharmacy Technician: Deanna Houle (assigned to Business Office)
Pharmacy Technician: Trisha Flute
Pharmacy Technician: Tonya John
Pharmacy Technician: Joyce Brady