The Indian Health Service continues to work closely with our tribal partners to coordinate a comprehensive public health response to COVID-19. Read the latest info.
Physical and Occupational Therapy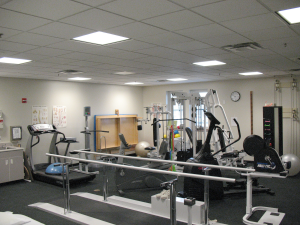 The Physical Therapy department treats the consequences of disease or injury by addressing impairments, functional limitations, and/or disabilities in patients. Some of the more common conditions for which the Physical Therapy Department examines and provides intervention and treatment include the following:
Orthopedic conditions - Such as low back and neck pain, headaches, and osteoporosis.
Joint and soft-tissue injuries - Such as sprains and strains, hand injuries, fractures and dislocations, and pre- and post-surgical conditions.
Neurologic conditions - Such as stroke, traumatic brain injury, Parkinson's disease, cerebral palsy, peripheral nerve injury, and multiple sclerosis.
Integumentary conditions - Such as burns, ulcers, and wounds.
Arthritic conditions - Including osteoarthritis and rheumatoid arthritis.
Systemic diseases - Such as cancer and AIDS/HIV infection.
Cardiopulmonary and circulatory conditions - Such as congestive heart failure, emphysema, chronic obstructive pulmonary disease, lymphedema, and peripheral vascular disease.
Workplace Injury - Such as carpal tunnel syndrome, cumulative trauma, and stress disorder.
Sports injuries - Such as overuse injuries and trauma in recreational and professional athletes.
For general information about Winnebago Hospital's Physical Therapy services, please call 402-878-2231 x2600.