International Classification of Diseases (ICD-10)
International Classification of Diseases (ICD-10)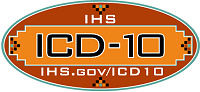 The IHS International Classification of Diseases, 10th Revision (ICD-10) project fosters an alliance among the Office of Information Technology (OIT), clinical, and business disciplines within the Indian Health Service/Tribal/Urban (I/T/U) community for the benefit of our patients.
News
On October 1, 2015, everyone covered by the Health Insurance Portability and Accountability Act (HIPAA) will begin using the International Classification of Diseases, 10th revision (ICD-10). These codes will replace the ICD-9 code set and must be used in all HIPAA electronic transactions. The transition to ICD-10 will not affect Current Procedural Terminology (CPT) coding for outpatient procedures and services.
To meet the October 1st deadline, the Office of Information Technology's ICD-10 Project will focus on the following:
Emphasize need for training for coders and providers
Update RPMS software to utilize ICD-10 code sets
Emphasize timely assessment of business associate, vendor and payer readiness
Encourage areas to address clinical documentation standards required to meet ICD-10 specificity
Eliminate visit backlogs, (provider, coding and billing) prior to transition date
Plan for a likely decrease in coder and provider productivity during the transition
Encourage sites to retain and recruit experienced coders
Engage and recognize everyone who contributes to the successful transition to ICD-10
Review the 2015 ICD-10 Training and Deployment Schedule for more details.