The Indian Health Service continues to work closely with our tribal partners to coordinate a comprehensive public health response to COVID-19. Read the latest info.
Recruitment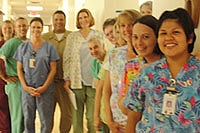 Employment with the Indian Health Service (IHS) offers opportunities for many different health care practitioners and allied health professionals.
Health care facilities are located near beautiful settings such as the Atlantic Ocean, the Great Smoky Mountains, and the Great Lakes. Most professionals in the area's facilities are employed by tribes, but may also belong to one of the government's personnel systems, the U.S. Government Civil Service Exit Disclaimer: You Are Leaving www.ihs.gov or the U.S. Public Health Service Commissioned Corps Exit Disclaimer: You Are Leaving www.ihs.gov . Each has different pay scales, requirements and incentives. In addition to health care professionals, IHS employs administrative and clerical staff, engineers and information technology professionals.
To be eligible for employment, candidates must be a United States citizen. Indian Health Service is required by law to give absolute preference in selection to qualified Indian preference candidates in the filling of a position by appointment, promotion, transfer, reassignment, reinstatement or any other personnel action. Eligibility for Indian Preference is determined by the current Indian Health Service policy.
More information about working for the Indian Health Service is available on the IHS Human Resources web site. To search for current job openings with the Indian Health Service, visit the IHS Jobs web page.
For information about employment with the United States Federal Government, visit the USA JOBS Exit Disclaimer: You Are Leaving www.ihs.gov web site and the USA JOBS Resource Center Exit Disclaimer: You Are Leaving www.ihs.gov .